Presented by David Fincher and Spike Jonze, the new film by Tarsem Singh (oh wait, sorry he's jettisoned the last name, now it's just Tarsem) is called "The Fall." Wait, who? You don't have to apologize if you forget who Peter Pan, excuse us, Tarsem is. Starting out as a video director (his big break was the nonsensical video for R.E.M.'s lyrically nonsensical hit single, "Losing My Religion"), the Indian-American filmmaker then directed the lush, visually arresting and utterly retarded, psychodrama that all takes place in the mind, "The Cell" starring Jennifer Lopez.

Released in 2000, "The Cell" was celebrated for its stunning, often absurd-looking cinematography, but generally laughed out the door for its pompous, very deep, and shallow attempts at "logic" and being abstract. Tinkerbell's latest fantasy effort looks equally ridiculous and yet another excuse to make pretty, pretentious and colorful images go along with a "story."

The synopsis:

Los Angeles, circa 1920's, a little immigrant girl (Catinca Untaru) finds herself in a hospital recovering from a fall. She strikes up a friendship with a bedridden man (Lee Pace) who captivates her with a whimsical story that removes her far from the hospital doldrums into the exotic landscapes of her imagination. Making sure he keeps the girl interested in the story he interweaves her family and people she likes from the hospital into his tale.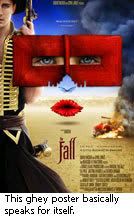 So it's kind of a capricious bonding fairy tale/adventure story with lots of faggy-looking costumes, arrows being dodged, elephants swimming in oceans, lithe, sweaty-ripped slaves carrying royalty, monkeys (monkeys are a must) and other elements of characteristically senseless twaddle. The film stars... well, nobody really, and essentially looks like a collection of pretentious, Salvador Dali-looking surrealist tableaux's and eye-candy for color-correction lab nerds.

You couldn't pay us to see this, but you know what? You'd expect "The Cell" to have been a huge bomb, and critically it was (naturally). But the film only cost $33 mill and eventually made $100 million with foreign receipts. Maybe the European art houses will eat up this silly, daydreaming tripe. Count us out. To experience the full-effect of this film's ostentatious and self-fellating absurdity one must experience the Apple trailer in all it's overwrought glory (but it's below if you just wanna watch the regular shit version).