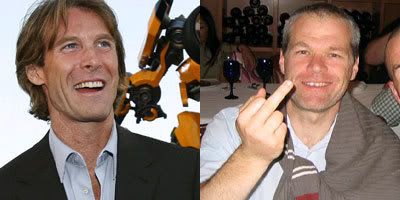 As you know by now, geeks on the interwebs want to throw German video-game-adapting director hack Uwe Boll into permanent director jail for all the transgressions he has made against schlock cinema (after all there are some beloved standards to uphold, see Eli Roth). Boll was recently alerted to the existence of an online poll that asked for his banishment from film and the Teutonic filmmaker said he would indeed quit if one million signatures were signed.

This of course drove the B-movie website enthusiasts into a lather and their campaign made the signatures skyrocket (currently stands at over 160,000). Boll responded in an YouTube video clip where he randomly lashed out at Eli Roth, Michael Bay and George Clooney (about the former two he basically said, "you bitch about my films? What about those two retarded hacks?"). Roth responded and late day yesterday and so did the exploding-happy Bay who responded via his official message boards (via Slash) with the equivalent of, "'who is this fucking Swedish directing gnat?"

"I find people who rant like that - calling shit about both me, and George Clooney - comes from someone screaming because he is not being heard," Bay wrote dismissively. "He is obviously a sad being. When you ask 'do I care?' Not in the slightest."

Will Boll quit after one million signatures? Surely this petition will peter out after 200,000 when everyone moves on to a more retarded story. This one's 15 minutes are almost up.