Did we call this one first or what? Yoko Ono has filed suit against the filmmakers of "Expelled: No Intelligence Allowed," for the unauthorized use of John Lennon's classic 1971 song, "Imagine."

On April 17, Ono's lawyer, said in an interview that the filmmakers of the pro-creationist film starring adenoidal actor Ben Stein did not have lawful permission to use the song. "It was not licensed," he told the Wall Street Journal. "We are exploring all options."

And explore they did. However, before that, the producers of the project tried to argue some lame free speech excuse because the film only used :25 seconds of the song. "After seeking the opinion of legal counsel it was seen as a First Amendment issue and protected under the fair use doctrine of free speech," the producers said in a paper-thin statement.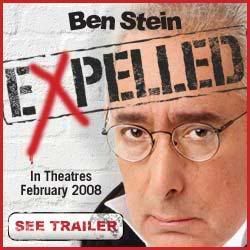 Ono, Sean and Julian Lennon, along with privately held publisher EMI Blackwood Music Inc. filed suit in U.S. District Court in Manhattan seeking to bar the filmmakers and their distributors from continuing to use "Imagine" in the movie. They are collectively seeking unspecified damages.

The suit is against the film's producers and distributors: Premise Media Corporation, C&S Production LP and Rocky Mountain Pictures.

Premise is still clinging to their weak, ahem, premise. They are citing fair use doctrine which news outlets generally use for the purposes of commentary and criticism.

"We are disappointed therefore that Yoko Ono and others have decided to challenge our free speech right to comment on the song 'Imagine' in our documentary film," Premise said in a statement.

See you in hell, twice over boys. Maybe the Killers will now follow, um... suit?