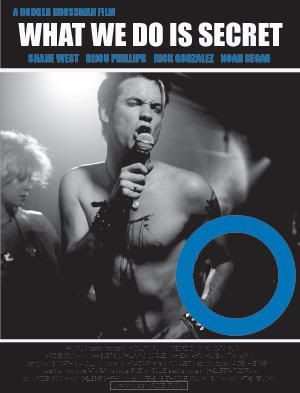 The long-completed Germs biopic, "What We Do Is Secret" will finally hit U.S. theaters in August via Peach Arch Entertainment - the same company putting out "The Go-Getter" - according to Billboard.

Initial screenings will be held New York (Aug. 8), Chicago (Aug. 15) and Los Angeles (Aug. 23) and the picture may roll out into other major markets depending on how it performs (which seems to be the cautious approach that the new fledgling Peach Arch seems to have for all their releases, again, see 'Go-Getter').

Starring Shane West (the tough guy punk from "A Walk To Remember" with Mandy Moore) as seminal L.A. punk figure Darby Crash, the short-lived singer of the Germs, 'Secret's has been seemingly finished for almost two years and the trailer has been out for ages (the film itself premiered at the Los Angeles film festival in June 2007).

Hollywood tart Bijou Phillips plays the Germs' Lorna Doom, and that kid, "Spanish" from "Old School" plays Pat Smear (sporting the most amazing Afro).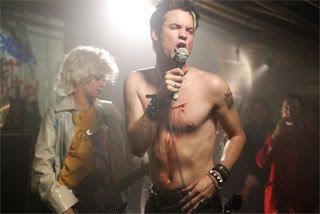 Directed by Rodger Grossman, the film took nearly ten years to make. West evidently campaigned hard for the role, immersed himself in the portrayal and endured three rounds of undoing dental prosthetics to match Darby's chipped and fucked-up teeth. West said that playing Crash would be a "losing battle in general. I'm not ignorant enough to say that I could duplicate Darby's madness, intelligence and wit. But I became close with his family and friends, and that was the validation for me."

The legendarily self-destructive Crash flamed-out extremely early: he overdosed on heroin at 22 and his death was overshadowed by John Lennon's death that happened earlier the month of December, 1980. Though his life was shrouded in mystery, apparently his death was premeditated. "He had a five-year plan to make his mark and then commit suicide, thereby ensuring his legend, " Grossman told the L.A. Times last year. LAist wrote a fairly favorable review last year.

Trailer: "What We Do Is Secret"