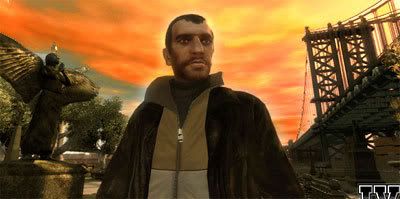 A lot has been said about Grand Theft Auto IV since it was released last week; more than we could ever hope to bring to the table. It has something for everyone. No, seriously, everyone.

We were noticing some of the incredible radio stations programmed for the game (over 200 tracks, it's wild, the music supervisor is now officially a god in that world, there's many a choice cut) and we noticed that there was even an ambient/chill-out channel called, "The Journey" filled with many an avante composer.

At first, we were like, "wtf?!?" But then, hey, even we've played the game and we get it based on our experiences. It's like this: it's 5 a.m., you're in your underwear, you've bleary eyed and have to get up in two hours for work, you've been playing since 7 p.m. the day previous and you're having a moment.


You've just fucking murdered the shit out of over 200 people in the last 10-or-so hours. You've blown up a grandmother with a hand grenade, you beat some brat to death with a baseball bat and watched his skull jizz hit your crispy white sneaks; you've yelled incredibly base racial epithets at dyslexic children and stolen over 75 cars which you proceeded to trash for no apparent reason.

After all that carnage and mayhem? We get it. Sometimes you just want to walk around the city, enjoy a beautiful sunset and pour one out with a lone tear streaming down your face to the contrite moment-of-clarity thought, "What the hell have I done?" A song for everything. Genius, programming.

The Journey
DJ: A computer
Genre: Ambient/Chillout
Tracklist:
Global Communication - "8:07"
Terry Riley - "A Rainbow in Curved Air"
Steve Roach - "Arrival"
Michael Shrieve - "Communique 'Approach Spiral'"
Jean Michel Jarre - "Oxygène, Pt 4"
Philip Glass - "Pruit Igoe"
Tangerine Dream - "Remote Viewing"
Aphex Twin - "Selected Ambient Works Vol. 2 CD2 (Z-Twig'')"
Ray Lynch - "The Oh of Pleasure"

Hell, maybe even Tom Cruise will pick this one up since he's such a TD fan.

Listen: Tangerine Dream - "Remote Viewing"