"She's sweet, but she's fucked up."

Everyone has a soft spot for Bill Murray and most people surely have a deep soft spot for the charming, yet fucked-up, sin verguenza character he played in Wes Anderson's "Rushmore," Herman Blume (we sure as hell do). But is he too much like that self-loathing, sad-sack billionaire alcoholic chainsmoker?

Jennifer Butler Murray, his wife of nearly 11 years seems to think so.The news is just coming out now, but she filed for divorce on May 12, alleging the actor abused her and is addicted to marijuana and alcohol.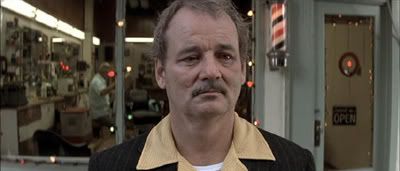 "I wouldn't know. I haven't seen her in six weeks."

Man, some of the alleged charges against Bill are rough. We hope they're not true.

The complaint, which doesn't specify instances of Murray's alleged marijuana or alcohol use, alleges he would often leave without telling his wife and says he "travels overseas where he engages in public and private altercations and sexual liaisons." It also alleges Murray physically abused his wife and last November "hit her in the face and then told her she was `lucky he didn't kill her.'"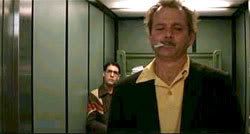 "Mmm, I'm a little bit lonely these days..."

Do we forsee a new Wes Anderson script tackling the subject matter as a way to help out his buddy? (After all, Wes and Owen Wilson were pretty much done as writing partners, but after Wilson's alleged suicide attempt, Wes was insistent they two would write again - and thank god). Poor Bill, hang in there kemo sabe, she ain't your Rushmore, mate.

Update June 27, 2008: Murray and his wife were granted a quickie divorce. According to a prenup, Murray agreed to pay her $7 million within 60 days of the divorce. This comes one month after Jennifer Butler Murray announcing she was filing for divorce.
Watch: 'Bill Murray Is Sad' Montage