Looks like Charlie Kaufman isn't straying too far from what he already knows for his feature debut, at least, as far as the music is concerned. The writer turned director has tapped celebrated composer/musician/producer Jon Brion to score his upcoming reality bender "Synecdoche, New York," according to the film's press credits for the currently-happening Cannes Film Festival (the film screens on Friday at the Croisette).

Of course the two are already familiar with one another, Brion having already scored the Kaufman-penned "Eternal Sunshine Of The Spotless Mind," that was directed by Michel Gondry (and did scores for David O. Russell's "I Heart Huckabees" and Paul Thomas Anderson's "Magnolia" and "Punch Drunk Love" - don't you wish you had his life?).


The film's synopsis is thus:

Theater director Caden Cotard's (Phillip Seymour Hoffman) life in Schenectady, New York is looking bleak. His wife Adele (Catherine Keener) has left him to pursue her painting in Berlin, taking their young daughter Olive (Sadie Goldstein) with her. A new relationship with the alluringly candid Hazel (Samantha Morton) has prematurely run aground. And a mysterious condition is systematically shutting down each of his body's autonomic functions. Worried about the transience of his life, he moves his theater company to a warehouse in New York City. He directs them in a celebration of the mundane, instructing each to live out their constructed lives in a growing mockup of the city outside.
You're already psyched to see Kaufman's directorial debut, isn't this even more reason to be excited?

At one point we had even thought perhaps Kaufman might have something to do with the music himself as a throw-away line in a Premiere.com piece mentioned that, "he wanted specific flowers to go with some music he had written for the scene," but maybe he just wrote some lyrics or ideas and had them executed by Brion? We'll find out soon enough, we're sure.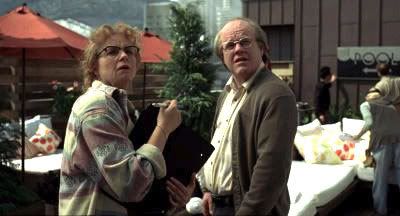 You've probably been wondering where the hell Brion's been and why he's been so quiet in the last few years (he's been working on a record with British singer Dido; and maybe one day Miranda July?), but he's finally resurfaced in the film world and we'll all be hopefully better for it in the end.

'Synecdoche' was originally a project intended for Spike Jonze, but when he left the project for "Where The Wild Things Are," Kaufman decided to step up and direct the odd film himself.

Is the project the "non-traditional horror" film he and Jonze talked about doing years and years ago? (In 2o05, Kaufman said he was "bored" with the script so it very well could have changed from the original conception)

"I have no interest in making a genre horror movie," Kaufman said in May 2004. "So I keep trying to make sure that's not what I am doing, so I keep trying to figure out what's really scary, not what's scary in movies because that is too easy, and it's a real struggle, but it's a struggle that I choose."

Watch: Jon Brion - "Strings That Tie To You" (from Eternal Sunshine OST)

Download: Jon Brion - "Theme" (Eternal Sunshine Of The Spotless Mind OST)