You've seen "The Love Guru" trailer and you've cringed in pain over just how unbelievably unfunny and terrible it looks. We actually shuddered the first time we saw it, it's wretched.

The film is tracking incredibly poorly right now, but we honestly think stupid audiences are going to go see this in droves regardless (we'd love to be proven wrong though).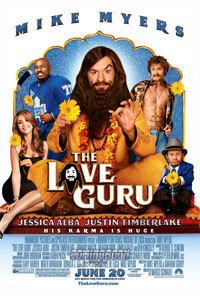 Here's an amusing rumor via Slate.

"The impossibly difficult Mike Myers is said to be driving the folks at Paramount so crazy that some say—jokingly, we think—that the studio set the film to open in June against the presumably more commercial 'Get Smart' as payback."
Not the first time we've read that Mike Meyers is supposedly an insufferable prick and extremely difficult to work with. Well, the good part is Meyers is going to be singing his heart out seemingly through the entire movie! He sings Dolly Parton's "9 To 5," Steve Miller's "The Joker" and Extreme's "More Than Words," in the film and those scenes will surely be the typically painful Meyers smarmy mugging moments that can turn even the bravest audiences stomaches. I mean you have Justin Timberlake in this film as a French-Canadian hockey player and perhaps the only potentially funny element of this film, why not maybe get him to do a new song? Nope, not happening. The saving grace on this thing is the Cornershop song, it's an old gem.

The soundtrack is due June 17 the movie comes out June 20 for the morbidly sick and curious. Oh, and it looks like the producers of this film don't quite get the viral marketing thing yet.

"The Love Guru" soundtrack tracklist.
01. Morning Meditation - Andrew Mendelson
02. 9 To 5 - Mike Myers
03. Brimful Of Asha (Norman Cook Remix) - Cornershop
04. Stop Hitting Yourself (dialog) – Mike Myers
05. More Than Words - Mike Myers and Manu Narayan
06. The Joker - Mike Myers
07. Lead Me To Your Rock -Telma Hopkins and Toronto Children's Concert Choir
08. Big Boi - B.A.S.K.O.
09. C'est La Vie - Robbie Nevil
10. I Drove All Night - Celine Dion
11. My Name Is Guru Pitka (dialog) – Mike Myers
12. Mere Mitwa Mere Meet Re - Lata Mangeshkar and Mohd Rafi
13. Guru Vindaloo - George S. Clinton
14. Mathar - Danny Saber
15. Guru Lineage (dialog) – Mike Myers
16. Guru Pitka Chant - Guru Pitka's Ashram Band