Cannes is literally shitting its pants in anticipation of Steven Soderbergh's 4-hour (official Duration:268 minutes) two-part epic about Argentinian-born, Cuban revolutionary Che Guevara (titled respectively, "The Argentine" and "Guerrilla").

It screens today and film critics and bloggers are actually frothing at the mouth (we smell another Palme d'Or for Soderbergh).

The Cannes website is littered with videos from almost every film, but all we get for the "Che' films are (some relatively) new photos of Benicio Del Toro as Che, Catalina Sandino Moreno (Aleida Guevara) and what appears to be either hunky Latin actor Edgar Ramirez (the latter assassin of 'Bourne Ultimatum') or Demián Bichir as Fidel Castro (we're talking the shot with the bazooka, honestly it looks like Ramirez). Also some of Franka Potente from "Guerrilla," as communist revolutionary and spy Tamara Bunke.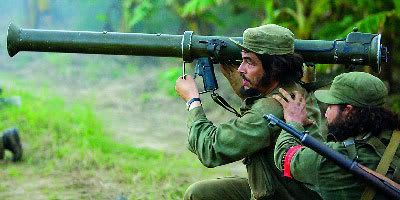 Our only little quibble? The long hair - which is accurate - makes us snicker a bit because Del Toro looks a little bit like Raoul Duke's attorney in military garb.

The film's synopsis:

PART ONE:

The Argentine
On November 26, 1956, Fidel Castro sails to Cuba with eighty rebels. One of those rebels is Ernesto "Che" Guevara, an Argentine doctor who shares a common goal with Fidel Castro - to overthrow the corrupt dictatorship of Fulgencio Batista.
Che proves indispensable as a fighter, and quickly grasps the art of guerrilla warfare. As he throws himself into the struggle, Che is embraced by his comrades and the Cuban people. This film tracks Che's rise in the Cuban Revolution, from doctor to commander to revolutionary hero.



PART TWO:

Guerrilla
After the Cuban Revolution, Che is at the height of his fame and power. Then he disappears, re-emerging incognito in Bolivia, where he organizes a small group of Cuban comrades and Bolivian recruits to start the great Latin American Revolution.
The story of the Bolivian campaign is a tale of tenacity, sacrifice, idealism, and of guerrilla warfare that ultimately fails, bringing Che to his death. Through this story, we come to understand how Che remains a symbol of idealism and heroism that lives in the hearts of people around the world.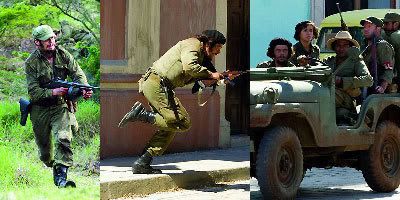 Jeffrey Wells figures with a break in-between the two films, the experience will literally be around 5 hours. "I'm going to text a mini-review of Part One (i.e, The Argentine) during this break, and probably some kind of quickie judgment after the whole thing ends sometime around 11:30 pm. But a full-on review won't happen until tomorrow morning."

Spoutblog says people are basically nervous with anticipation. Everyone is calling it "Che Day." Nothing else is on the minds of everyone at Cannes right now. Damn, we

really

wish we were there right now. It's the only film we can't

wait

to see. Buyers have been essentially been waiting for "Che" before they whipped out their checkbooks for any other films.

PS, the score was written by

Alberto Iglesias

a Spanish composer (no relation to Enrique, sorry) whose score for

Pedro Almodovar

's "

Volver

" was

so good

it was cited by heavy weights like

Hans Zimmer

"(The Thin Red Line"),

Howard Shore

("LOTR") and that year's original score winner, 2-time Oscar fave

Gustavo Santaolalla

("

Brokeback Mountain

") as being one of the year's best (and it

was

fantastic, the fact that it wasn't nominated for an Oscar that year was a travesty).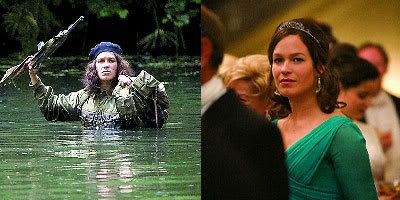 Update:

Jeffrey Wells just came up for air as they say to give some thoughts. He exasperatedly calls it "brilliant."

"The first half of Steven Soderbergh's 268-minute Che Guevara epic is, for me, incandescent -- a piece of full-on realism about the making of the Cuban revolution that I found utterly believable and politically vibrant and searing. It's what I'd hoped for and more. Benicio del Toro's Guevara portrayal is, as expected, a flat-immersion that can't be a "performance" as much as a knock-down ass-kick inhabiting."
Daaaaamn

, son.

UPDATE

: The AFP has released a clip of the film. See it below.