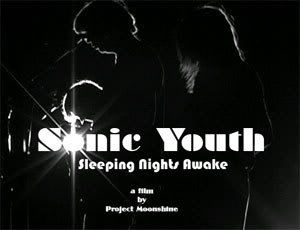 The CineVegas film festival has announced it's line-up and one of the main films is a documentary on aging, hipster downtown NY noiseniks, Sonic Youth, called "Sonic Youth: Sleeping Nights Awake."

Produced by non-profit

filmmaking

patrons Project Moonshine, the twist with this digital-video doc was that it was shot entirely by seven high school students and featuring interviews, backstage footage, and 10 songs that were filmed live in Reno, Nevada on back in July 06.
Other films included in the fest will be Abel

Ferrera's

reprobate stripper-

paean

, "Go Go Tales" (it was at Cannes last year and still has yet to be picked up) and his doc about the infamous New York hotel, "Hotel Chelsea, Chelsea on the Rocks," "The Great Buck Howard," which features a score by Clap Your Hands Say Yeah! and stars Tom Hanks and John

Malkovich

(it screened at

Sundance

earlier this year), Alex

Gibney

's doc, "Gonzo: The Life and Work of Dr. Hunter S. Thompson," arrested development artists doc, "Beautiful Losers"(which features a score by

Beastie

Boy collaborator Money Mark)

Rainn

Wilson as the failed drummer in "The Rocker," and Clark Gregg's "Choke," which features some

Radiohead

and other indie artists on the film's soundtrack.

CineVegas

will run June 12-21 at the Palms Casino.


More from

Ferrera's

'Hotel Chelsea,' from Jeffrey Wells' blog. The notorious hotel has a storied rock n' roll relationship (tales that include Nancy

Spungen's

death at the hands of Sid Vicious and legends that involve Nico, Leonard Cohen, etc. etc.) and evidently features interviews with "residents past and present" like director

Milos

Forman

, Ethan

Hawke

, Dennis Hopper and subversive comic artist R. Crumb, plus vintage music, archival footage and re-enactments of famous Chelsea episodes -- Nancy

Spungen

and Sid Vicious, Janis Joplin -- performed by Bijou Phillips, Jamie Burke, Adam Goldberg,

Giancarlo

Esposito

and Grace Jones.

Ferrera

is debauched incarnate, so he probably sounds like the man for the job when it comes to rock bacchanalia stories.
Watch: 'Sonic Youth: Sleeping Nights Awake' trailer