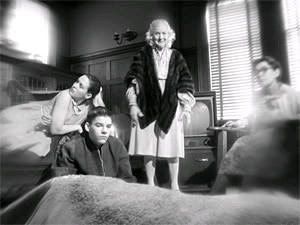 Guy Maddin must be OCD. The distinctively arcane Canadian filmmaker has been obsessed with wintry, snowglobe aesthetics, eroticized adolescent Freudian examination and '50s like paranoiac melodrama almost since his career began.

Thematically, when not examining the secret life of ice nymphs, one legged beer baronesses and German expressionism-esque hospitals gone awry, the Great White Northern director has been singularly fixated on his imagined dysfunctional family and the winter wonderland of his Manitoba landscape of birth.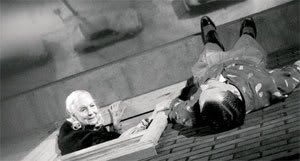 So when asked to make a documentary of his Winnipeg hometown – essentially a propaganda assignment – the filmmaker took the opportunity to look at the city through both his phantasmagorical and autobiographical lens for the appropriately titled "My Winnipeg."

Dubbed a "docu-fantasia," Maddin's fabulist remembrance of Winnipeg is both nostalgic and slightly scornful. The doc begins with the director narrating escape route possibilities on a train from the winter torn city and then vacillates between the fantasized, always sexually-charged childhood and an imagined civic guide through the secret dark alleys and shadowy backdoor cabals that may or may not have happened in the fair city.


Whether there were ectoplasmic seances once in city hall; if a staged Nazi takeover during WWII to scare the citizens of "What If" day actually happened, or whether the Masons built secret code in to the architechtural fabric is fact is completely besides the point - Maddin's distinct take on Winnipeg is purposefully built to construct both allure and myth.

The unique filmmaker is constantly at play; using the film as both aversion therapy and a place to reimagine the past. He rents out his old childhood home to simulate actual painful events of his upbringing
and claims to coax his mother out of acting retirement to play herself when in actuality its a 1940s B-movie actress portraying his moms. His siblings are also played by actors that he says have uncanny resemblance to his family and his oedipal complex is again on display (he hilariously describes the "gynocracy" of the female-infested hair salon that his mother ran growing up).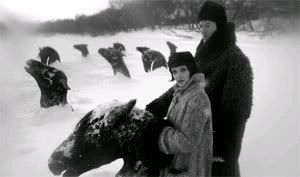 All the while the film runs on a feverishly drunk, dream-like rhythm that is hypnotic and metaphorically in step with the going-nowhere train his stand-in is riding - you would fall dead alseep if it weren't so utterly fascinating. Dreams are another infatuated motif. At one point he claims that "Winnipeg has 10 times the sleepwalking rate of any other city in the world," which is obviously meant metaphorically.


In a brief, anachronistic and rare showing of modern day politics, Maddin breaks the fourth wall by showing recent color-footage of various Winnipeg touchstones being demolished - his scorn for the short-sighted bureaucrats that run the city clearly strong enough for him to include this bold deviation.

The autobiographical love/hate affair Maddin has with his provincial city (and therefore childhood) is crystalline. He's constanly trying to leave, yet he's obsessed with revisiting the past which essentially echoes the filmmakers real-life conundrums (he still lives there while Canada expected him to leave to Toronto ages ago). Elements of Winnipeg are beloved to the cineaste, but change and disrespect for its glory days are plainly met with disdain.

"My Winnipeg" is as much an examination of personal psychological paralysis as it is a heartfelt tour of his hometown's history, both literally and figuratively.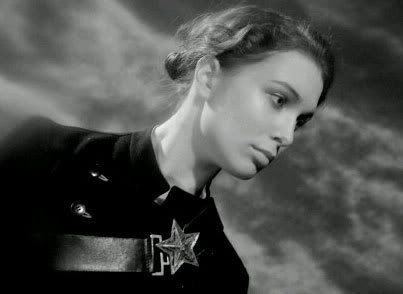 You don't need to know jack or care about the town of Winnipeg to enjoy the film. You just simply have to have an appreciation of Maddin's quintessentially esoteric perspective on the world. Maddin is routinely called the David Lynch of Canada, but at this point, that's more of a disservice to his unparalleled artistry. What's worse is he's a national treasure that's basically unobserved. Easily the best film we saw at the recent Tribeca Film Festival. Someone hook us up an interview with Maddin, stat. [A]

'Winnipeg' won the award for Best Canadian feature film at the 2007 Toronto International Film Festival. For more Guy Maddin see our coverage of his amazing psychodrama "Brand! Upon The Brain!," which was performed live and narrarated by fans of the filmmaker like Lou Reed, Crispin Glover and Laurie Anderson.