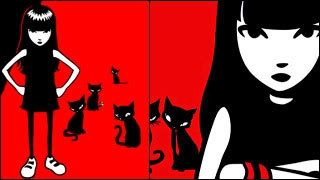 Phones are currently ringing off the hook in young Hollywood for a niche, but highly coveted role. An adaptation of the cult counter-culture comic character Emily The Strange has been announced. Ok, and?

Well, think about it. Strange isn't exactly a household name (even though her visage is instantly recognizable), but obviously good, female roles are hard to find and so a character who's rebellious, recalcitrant, bitchy, sarcastic, cranky and dresses like misfit self-cutter goth?

The role practically screams gothy-version of the sarcastic, flippant teen of "Juno."



Every girl from 18-26 (and older) is on the phone with their agent (and put aside for the fact, this is basically a movie being adapted from what began as just a sticker). We imagine new young Hollywood (Ellen Page, Olivia Thirlby, Kristen Stewart and Zooey Deschanel) have the inside track against old, new young Hollywood (Christina Ricci, Mila Kunis, Fairuza Balk, Robin Tunney; the entire cast of "The Craft"), but regardless phone lines are being bombarded as we speak (some Ari Gold like agent is probably yelling at his assistant right now and saying, "Look, Emily Blunt is too damn old for this part, I'm not even taking her call!").



But we're worried about the method-acting immersion thing. Will Kristen Stewart do nothing, but cut hearts into her thighs and listen to Front 2 4 2 and The Cure for two weeks straight? Will Olivia Thirlby all of a sudden start becoming an acerbic little witch that gives people the stink eye while talking shit behind their back.

Even worse, will Diablo Cody be hired to write it? The producer of "Hellboy," its upcoming sequel and "30 Days of Night," so we can imagine a lot of irreverent scoffing and dark biting tones. Those who lose out will still be able to presumably play voice parts for Emily's four cats -- troublemaker Sabbath, schemer Nee-Chee, imaginative Miles and leader Mystery (umm, they do talk, right?).

We could say something about chicks being all catty to one another about who gets the role, but with "Sex And The City" right around the corner, there's just too much damn misogyny out there for our taste. Have at it ladies and best of luck to the winner.