It's been a minute since the terrorists had seemingly won in the evil Warner Bros. vs Spike Jonze's childlike genius and his adaptation of "Where The Wild Things" are.

You'll recall the Internet went into panic mode when rumors swirled around that Jonze's adaption was being tweaked and possibly recut by the studio ("This is the worst news since Heath Ledger died!," one hyperbolic fan exclaimed on a message board). As the interweb is wont to do, that gossip and speculation soon snowballed into specious claims that Spike Jonze was being replaced, and the script that he and Dave Eggers had written was totally being tossed-out. Not one report suggested this, but the interweb sites started suggesting it regardless (dumbasses).

T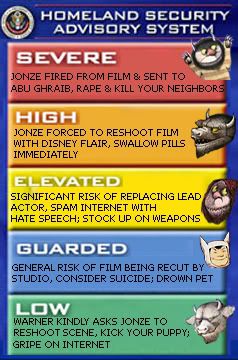 hen we ourselves found an interview with one of the assistant editors on the film who basically confirmed what we had assumed - Jonze was still on the project, some re-writes were happening and some re-shoots will be scheduled.

Well, Entertainment Weekly has finally checked into this story (it's not online yet) and they have an update that will both fuel and subdue the fires of internet worry on this project (mostly fuel, we're sure).

First off, inside sources told the magazine that production was "deeply troubled."

We've all heard that the film is allegedly "too dark for children," but 'Wild Things' producer John Carls insisted to EW that "there is nothing inappropriate for a child."

EW says "bloggers fueled the bad buzz" (see? we told you guys to calm the fuck down) and evidently "Alvin & The Chipmunks" screenwriter Jon Vitti was requested by Warners to make "significant changes" to the script (calm! calm people, he also wrote for "The Simpson's" movie, SNL and the "Larry Sanders Show").

However, Carls said the tone of the script would not change and explained, "We're inserting new moments that will make the individual 'Wild Things' story line more clear."

[ed. Hear that thud? Someone on the Internet just fainted...]


Warners issued a statement, "We have always believed in and continue to support this film. As with all films, post-production is an evolving process, and Spike Jonze will be shooting some additional scenes."

EW also notes that Jonze also doesn't have, GASP, final cut over the final film. Online geeks have encouraged Jonze to leak his cut over the Internet, but Carls said that won't happen. The original author of the children's book Maurice Sendak is evidently, "very pleased with what Spike has accomplished thus far."

Lastly, the piece also cautiously reminds us all that WB is still smarting over the box-office failure that was "Speed Racer," and we'll let you extrapolate wildly on that one all you like (while we duck and take cover).

Let the hysteria officially begin once again (though at this stage, we're probably at yellow alert by our estimation - see our graphic).