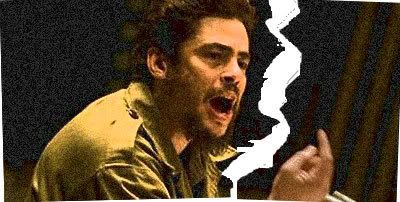 Cannes is winding down and ends on Sunday (May 25) and the festival has had a dour tone with sluggish, but some sales. With a decidedly mixed reaction to Steven Soderbergh's 4-hour plus, two-part Che Guevara biopic "Che" ("The Argentine," "Guerrilla") Variety's Anne Thompson assumes "Soderbergh's 'Che' will likely be re-cut."

She notes that Soderbergh initially didn't think he could finish the film in time for Cannes.

"The process of editing was intense," he said at a press conference in Cannes. "The further you get into it, you need context. That's why you need two movies."
Thompson suggests that "Che" will not be released in its current form (not really rocket science) and notes that top studio buyers, Fox Searchlight, Miramax and Focus Features all left town before the film even unspooled.

On Thursday, Soderbergh told Cannes reporters that he would be willing to cut the 4-hour film into two parts, but uhh, wasn't that the whole idea originally? We thought based on two-film titles, that was the plan from the get-go. No layman in their right mind is going to sit through a four hour movie these days, not one.

But Soderbergh said he'd at least like to open it for a week as one movie (the diehards and nerds like us would be up for that). "What I'd like to do is that if it opens in a town, you can see it for a week as one movie, and then you split it up," the filmmaker said. "To me that would be an event."

Like "Grindhouse" before it, distributors seem to want to break the film into two separate pieces (again, duh, regular audiences wouldn't stand for that). Soderbergh did not say whether he'd be willing to cut the project to a single two- or 21⁄2-hour film (as some have suggested here and there).

But there could have even been a third 'Che' movie!

"Even though we've made two parts we still haven't shown everything," Soderbergh told reporters just before the Wednesday premiere. "There's actually another movie, I think, to be made about what happens between these two parts but we didn't have enough money."
Some

sales have gone down, but they're not the big headline-grabbing ones like $10 million for "Hamlet 2" (which happened at Sundance) and not a lot of them have been U.S. deals (though Europe seems to be doing just fine).

IFC bought

"Hunger

" for the U.S. and

Sony Pictures Classics

put a bid out to

James Toback

's well-received "

Tyson

"documentary on the the former heavy-weight champion turned monster, turned (Anne Thompson said SPC "lowballed" the filmmakers). The Sundance Channel acquired US TV rights to

Madonna'

s AIDS doc "

I Am Because We Are

." U.K. distributor Axiom Films accessed all rights to

Wim Wenders

' competish entry "

Palermo Shooting

."

Wong Kar-wai'

s "

Ashes of Time Redux

" sold to Artificial Eye for the U.K.

Europeans are basically calling U.S. buyers, "fucking pussies."

European sellers are not necessarily sympathetic to American fears over less easily marketable product. "The Americans are lazy, they're arrogant and too scared to do any deals," said one European sales exec. "I tell them: get some balls — your companies are all going down the toilet, maybe now's the time to get some films before it all collapses."
As of this writing "

Che

",

James Gray

's "

Two Lovers

,"

Barry Levinson

's "

What Just Happened

?" and "

Synecdoche, New York

" have yet to be sold. Not sure about

Clint

Eastwood

's, 'Changeling,' err
"The Exchange," we've purposely not been paying too much attention to that one.

People have generally been underwhelmed and feel this may set the tone for a weak 2008 film year. "Even before the halfway mark, the general mood has been one of disappointment," said Variety critic Jay Weissberg.