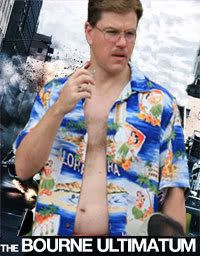 'Jason Bourne' franchise producer Frank Marshall has told IESB.net that a fourth film and follow-up to "The Bourne Ultimatum," will be ready to shoot next summer for a 2010 release with director Paul Greengrass and Matt Damon. Oh, really now? Do they have a script ready? Have they started writing a script?

"There was a fourth book written, but it was not by Mr. Ludlum. So we're probably going to take our own direction and we're working on what that storyline's gonna be right now."
So you're working out the storyline now and you have to have a script ready and pre-production and everything set to go for next summer? Doesn't a good script take about at least 6 months to hammer out? And umm,

Tony Gilroy

- the screenwriter of

all

the Bourne films - is a tad busy directing his own films in case you hadn't noticed Mr. Marshall.

Hasn't Matt Damon said time after time that he's not really interested in reviving this character again?
Plus have you seen him lately? A year to get in shape? Sure, but considering all of the above? Fat fucking chance. Marshall says they want to take Bourne to South Africa. We would bet they'd get to Neverneverland before that. (We're not saying it'll

never

happen, but next summer? Ok, Santa Claus, whatever).