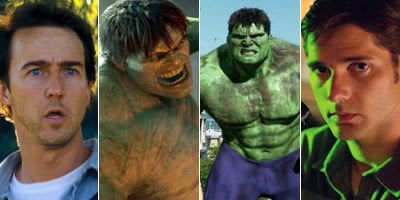 Perception is everything, right?

Ang Lee's "Hulk" was a ponderous, chin-stroking character study that flopped at the box-office.

And Ed Norton's "The Incredible Hulk" (notice no director mentioned here), was enjoyable action-packed flick, that has been a smashing success, toppling the box-office this weekend and erasing the memory of Marvel's original embarrassment, right?

Not quite. "The Incredible Hulk," directed by Louis Leterrier, opened this weekend with a winning $55.4 million, but it was well off the opening of Ang Lee/ Eric Bana's 2003 version of the green monster film which opened five years ago to a substantially larger $62.1 million. Marvel is calling this new version an unqualified success, but of course you're not reading this truer story everywhere (of course its the Aussie press have to make a note of pointing this out, not in the name of fairness of course, but because Bana is Australian).

Now, we're not defending either film here, but we're just pointing out something that the press at large is M.I.A. on. We enjoyed the new version of the Hulk much more than Lee's, but not because it was action-packed, but because it was just a stronger, well put-together, executed and enjoyable film. Lee's film is remembered fondly (or derisively depending on who you are) as an introspective and nuanced character study, but we wish that was the case! (we surely would've loved it more if that were really true). Perhaps, it was aiming for that, but the entire thing was just cartoonish and laughable (Josh Lucas' performance was particularly dreadful). The cast and director are fantastic on paper, but there's an ineffable thing missing from it - mostly anything that resembles anything believable or quality.

Lee's 'Hulk' is also maligned for not having enough action when the truth is it has just as much action as "Iron Man," did. It's just not good, but people insist on pinning a specific reason on it, and in lieu of our own, we have yet to hear one salient argument that rings true other than it's an inspired director and cast gone horrible awry (it's hard to buy anything in the 'Hulk,' performances might be the biggest flaw; their wildly all over the map).

'Hulk' went on to take in $245 million worldwide in 2003, but compared to "Spider-Man," at the time the most recent successful Marvel-related franchise, these numbers were viewed as terribly disappointing.