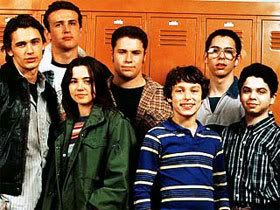 How rad is this? Not familiar with the origins of the Judd Apatow family players, heart and balls style comedy and the humble begins of actors Jason Segel, Seth Rogen and James Franco on the short-lived, but beloved TV show, "Freaks & Geeks?" Run don't walk, srsly.

According to an Amazon pre-order listing, the very-pimp 8 disc "Freaks And Geeks Yearbook Edition" DVD will be available October 28th via Shout!. It's a little pricey ($118.99), but gonna be well worth it, trust us.

No details yet, but presumably it has all the 2004, 6-disc version had and more. [TVShowsonDVD]

The show had a great soundtrack that featured a score by then a relatively-unknown musician Michael Andrews, who has since gone on to score "Walk Hard," and Miranda July's "Me And You And Everyone We Know," and become a pretty in-demand L.A. producer/multi-instrumentalist in the vein of Jon Brion that's constantly working with excellent L.A. singer Inara George both on her solo work and the her new group The Bird & The Bee (who were featured in "Forgetting Sarah Marshall").

Jason Segel's dorky but endlessly endearing, Rush-loving drummer character on the show sang a bunch of songs on the show including "Lady L" (written and sung by the Segel) and the Doobie Brothers' "Jesus Is Just Alright With Me" (the show also included tons of great mullet-rock cuts by Van Halen, Cheap Trick, April Wine, Deep Purple, Styx, Santana and more; it was set in 1981 after all). We've been sitting on songs from the soundtrack for some time now, so here they are. Now if we could only find the inside-CD art that features shots of a very young Franco and Segel rocking out cause they are priceless. See you at Bestbuy or some similar type place on October 28. If you buy up my copy I will cockpunch you.