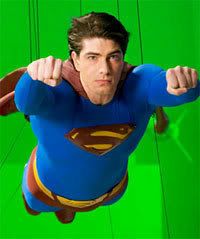 The sequel to "Superman Returns" is ready, right? Or so says Supe/Clark Kent actor Brandon Routh.

"I know, they're busy writing a script and then I trust we'll be starting next year, early next year. That's my timeline anyway."

Yeah, that's Routh's timeline alright, cause he's just loaded with other projects, huh? Our timeline is that we're going to sellout and be rich next Thursday if anyone here is into random, vaguely-informed pronouncements as well.

With Bryan Singer's "Valkyrie" opening in February of next year, he's supposed to start production on 'Superman Reboot 2'? Once again, doubtful, but this it the preemptive strike as everyone is already taking this at face value with "Superman Sequel To Start Q1 of 2009!" Yeah, we're cynical assholes, but could you just try and be a tiny bit more skeptical too, fanboy?

Routh also says the "Justice League" movie is dead. Gee, ya think?? This report comes from Hollywood.com, who once reported that Scarlett Johansson was going to play porn star Jenna Jameson and then fell flat on their faces. The Justice League shocker is about as thrilling as Cinematical's non-news story with rapper Common about the non-happening of the JL film.

Where ever there's a weakass super hero story, we'll be there to defend logic and poo poo it! Up, up and away!