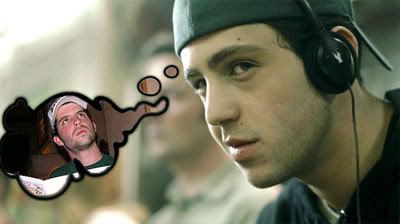 The fine L.A. Times music blog (who also has a keen interest in movies), Extended Play, got a chance to sit down with "The Wackness" director Jonathan Levine and talk about the music in the film – 1994 era'd hip-hop that is integral to the film and the place and time to which the story takes place.

As EPlay notes, "The Wackness," won the Sundance 2008 audience award, was quickly picked up for distribution by Sony Pictures Classics, and now Jive/Sony will be releasing 13-song soundtrack on June 24 (we have the tracklist below; a bonus edition will feature two additional tracks).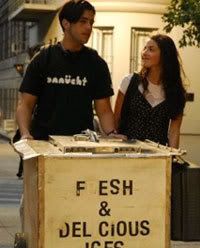 [For those not keeping score, the film is a coming-of-age story set in 1994 about a latchkey weed-dealing teenager (Josh Peck) who befriends and sells pot to his unconventional therapist (Ben Kingsley), but things get complicated when he unexpectedly falls in love with said shrinks daughter (played by 2008 It-girl Olivia Thirlby).]

Very notably, the forward-thinking writer/director actually wrote the music into the script well in advance, and with the assistance of his music supervisor, was able secure a deal for a soundtrack months before taking the film to Sundance.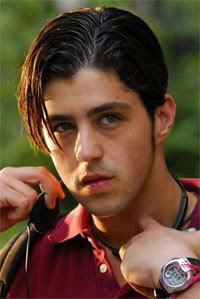 Similarly, Jive Records even got involved in the soundtrack deal before the film premiered. "Things changed in that we could focus on getting their artists. They have the Jive catalog, which is pretty much the best stuff from the era," Levine told Extended Play. "We focused on getting as much Jive stuff as possible, like KRS-One, [Wu-Tang Clan member] Raekwon and Nas. It was very helpful. It gave us a focus, since there's so much different stuff in that era" (the film also features tracks by R.Kelly, Faith Evans, Craig Mack and Method Man who has a small role in the film as a Jamaican weed dealer).

Evidently, as far ahead of the game as Levine was, there was still a lot of music he couldn't get for film including a lot of "bad rock," from that era like, Counting Crowes and Hootie and the Blowfish. Desired R&B tracks by Mary J. Blige and TLC where also cost-prohibitive (though we're almost positive we heard some Mary in the early March screening we saw) and alt-rock like Weezer, Radiohead ("The Bends") and the Smashing Pumpkins ("Siamese Dream") just didn't fit into the running time of the film.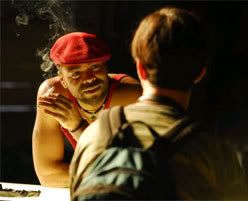 The film takes place shortly after Kurt Cobain's death and their is references to his passing in the film, but Levine didn't even make the attempt to clear "Lithium," a song that the scene was originally written to.

"We didn't even bother. I don't know what getting a Nirvana song entails. I think we would have had to screen it for Courtney Love and then pay a lot of money. I don't know -- we just figured it wasn't going to happen," he said.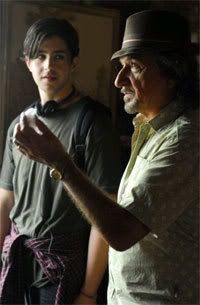 A Tribe Called Quest's "Can I Kick It" and its iconic Lou Reed sample from "Walk On The Wild Side," was a key track used to bring the fledgling teenager and the aged therapist. The fact that they even could clear it was somewhat of a miracle, but the surrounding circumstances made it a lucky score.

"I don't think there was much demand for ['90s hip-hop], and people were just happy to contribute their songs to a movie. Also, we got [Sony BMG] behind us, and they were able to hook us up," Levine stressed. "[As] for the Kingsley character, this was exemplified in the music of the late '60s/early '70s, and I think he sees some sort of commonality with the music of Luke's childhood. I think having that Lou Reed sample brings everything full circle."

For self-appointed pop vulture gatekeepers who wince at the mere mention of pop-culture-like dialogue, "I got mad love for you, shorty," and feel the need to defend it at every turn, (hello and hello), please just don't bother seeing the movie and spare us all (me) the aggravation. Sometimes kids deliver pop-like speak, ok? It's not the end of the world (Generally these are music people who routinely ignore movies, but poke their head out of the sand every six months when a film dares to have some music connection that they haven't pre-approved - please go away, thank you).

Meanwhile, Levine has put another 'Wackness'-inspired mixtape from Mixwit online that features great tracks from The Beastie Boys, Souls of Mischief, Big L, A Tribe Called Quest, Nas, Herb Alpert, Smashing Pumpkins, Weezer, Mobb Deep and more (his first mix is here). The film opens up in theaters on July 3 and the L.A. hip-hop group Move.Meant is featured in the film's trailer.

"The Wackness" soundtrack tracklist (all the music featured in the film - which is not almost identical, is here)
01. "The What" - Biggie Smalls
02. "You Used to Love Me" - Faith Evans
03. "Flava in Your Ear" -Craig Mack
04. "Summertime" - Fresh Prince
05. "Can't Ya See" - Total
06. "I Can't Wake Up" - KRS-One
07. "The World is Yours" - Nas
08. "Can I Kick It?" -A Tribe Called Quest
09. "Heaven or Hell" - Raekwon
10. "Bump and Grind" - R. Kelly
11. "Just a Friend" - Biz Markie
12. "Tearz" - Wu Tang Clan
13. "Long Shot Kick the Bucket" - The Pioneers
including bonus tracks edition
14. "All the Young Dudes" - Mott the Hoople
15. "Season of the Witch" - Donovan