This is how you repay him? Man, we knew we were on to something here. Earlier today, we had noted, via Slash, that "Iron Man" director Jon Favreau was kicking up dust about not being signed on for "Iron Man 2" yet, despite filming supposedly starting next March and a script nowhere near completion (has it even started)?

Favreau's been concerned and dropping tons of hints to the public about his displeasure in the communication breakdown that he and Marvel Studios seem to be having (they haven't talked in 5 weeks, "Iron Man," has raked in more than $500 million for the fledgling studio).

Yesterday, he took to his Myspace page to basically say (and vent?) he felt the April 2010 release date of "Iron Man 2" was "unrealistic."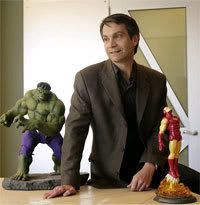 Well, IESB. net has an update and it appears the problem is money and it appears that Marvel is dicking Favreau around and can't meet his asking price. Apparently they got him for relatively cheap to begin with, but, despite the fact he turned "Iron Man" into a huge success, they are reportedly being cheap and not willing to pay the "fair" director's fee that Favreau is asking . The website writes:

"So according to our source at Marvel, Jon was expecting a moderate bump in his fee for the sequel but apparently Marvel has other plans. Our source continues that [Marvel Studios chaiman] David Maisel believes 'Iron Man 2' will be a success regardless of Favreau's involvement and feels the studio does not need to pay Jon a higher fee for his services.
Naturally, Favreau obviously should get some sort of renummeration for his work. He basically got the studio off the ground on the right track ("Iron Man" was the first film the studio financed on their own). Given everything the mostly congenial director has been saying these past few weeks, this sounds very legit.

"Jon Favreau has not been locked in to direct Iron Man 2 for the simple reason that Marvel is being cheap - this is 100% accurate folks, no bullshit."
IESB feel pretty confident about this one and with their source being Marvel (so they say anyhow), this smells like the real deal and basically what we had already assumed.

"I don't think there's been a new studio making $100 million movies since DreamWorks. We're going Hollywood, but in a smart way," Maisel told the New York Times in July of last year.

The Times writes a line that basically says it all:

"Whether Mr. Maisel's claim proves true or merely another example of Hollywood hubris will be determined over the next several years, beginning in May and June of 2008 with the release of its first two self-financed films, "Iron Man" and "The Incredible Hulk."