Leave it to writer director Alan Ball ("Six Feet Under") to present Warner Bros. with one its biggest challenges this year outside of getting more than three people to see what was supposed to be the tentpole victory of "Speed Racer."

Based on the Alicia Erian novel, "Towelhead," the film is a twisted coming-of-age tale via a dark look at suburban culture with you know, a little post Gulf-War I racism and some good ol' pedophilia thrown in for good measure. Maybe a little like "Little Children," without the dark sense of humor (the narration in the film is seriously so brilliant).

Towelhead" follows the dark, bold and shockingly funny life of Jasira, a 13-year-old Arab-American girl (relative newcomer Summer Bishil), as she navigates the confusing and frightening path of adolescence and her own sexual awakening. When Jasira's mother sends her to Houston to live with her strict Lebanese father (Peter Macdissi), she quickly learns that her new neighbors find her and her father a curiosity. Worse, her budding womanhood makes her traditional and hot-tempered father uncomfortable. Lonely in this new environment, Jasira seeks friendship and acceptance from her neighbors Mr. Vuoso (Aaron Eckhart), an Army reservist, and Melina (Toni Collette), a meddling but caring expectant mother (Mario Bello also stars).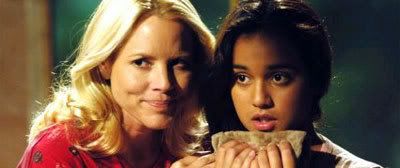 Notice the euphemisms in the trailer, "budding womanhood," as Anne Thompson also notes, selling this thing to the public isn't going to be the easiest thing in the world (she says it will need, "delicate handling," and yeah, that's an understatement). "Towelhead" has been done for a while now and it premiered at the Toronto International Film Festival in 2007 under the title, "Nothing Is Private," so obviously there's been a lot of toying with how to present the film.

PS. Our buddies Randall Poster and Jim Dunbar did the music supervision here and if the trailer is any indication - songs by The Alarm (the very U2-sounding "Be Still") and Howard Jones - there will be some interesting songs used throughout.

"Towelhead" was to be one of the last films released by Warner Independent Pictures, which announced it was shuttering at the beginning of May (another blow to the indie film world), but it appears that Warner Bros. proper is taking over the film according to Anne Thompson. They'll have their work cut out for them come the August 8 release and the weeks leading up to it (which presumably starts out limited).