Another Marvin Gaye biopic? Yup. F. Gary Gray, the director behind "The Italian Job" and the stoner comedy, "Friday," is finally getting his with to direct "Marvin," from a script written by C. Gaby Mitchell (the guy who wrote "Blood Diamond").

According to Variety, Gray has long wanted to helm a Gaye biopic, but music rights were always an issue. But now the producers of the film apparently have complete music rights to Gaye's catalog, including hits like "Ain't No Mountain High Enough," "Heard It Through the Grapevine," "What's Goin' On" and "Let's Get It On."

The difference between this doc and the upcoming James Gandolfini produced Gaye flick, "Sexual Healing," starring Jesse L. Martin ("Law & Order")? Apparently 'Healing' only has the rights to Gaye's post Motown records work which is one of the central reasons why that film will center on his declining years and European emmigration only (the last three years of his life). 'Marvin' on the other rights has carte blanche to the classic Motown years, so the Gray film will cover his entire life, from his rise to fame, to his European exile, to his comeback and then untimely death at the hands of his father in 1984.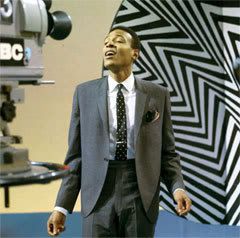 Gray told Variety:

"This is my passion project, the one that I wake up every day thinking about. I'm going to tell a truthful story, and there is no shortage of drama and extreme conflict in a relationship with his father that at its core is Shakespearean and tragic. This isn't the average biopic of a rock star wrestling with drugs and women, but a man whose musical awakening became a call to action that questioned critical issues like a costly foreign war, recession, environment, inequality -- issues that are relevant now."
One of the producers on the project said, "My mantra was, no music, no movie, but to me, the core story is a man who spent his whole life trying to justify and prove himself to a father who beat him down physically and later mentally."

Meanwhile, "Sexual Healing" was supposed to start shooting in Europe a month ago, but evidently production on that project has stalled. No actor has been named for 'Marvin,' but whoever it is, plans are for him to lipsynch, not actually sing the parts (it's unclear if Martin will actually sing in 'Healing,' but it's been noted by many that he has the pipes).