By now we all should know: Brad Pitt's stoner in "True Romance" begat the idea for producer Judd Apatow who say the cameo performance and basically compelled him to say, "Now, I wanna see a movie about THAT guy!"

For The Playlist, watching the detours of minor characters has never resounded louder for us than the scene in "Ferris Bueller's Day Off" where the two car garage attendants take off in Cameron's (Alan Ruck) father's Ferrari. A piece de resistance sequence of comedy if there ever was one, the joyous slow motion look of these two roustabouts as they take dad's wheels out for a joyride, is a constant sequence of amusement for us.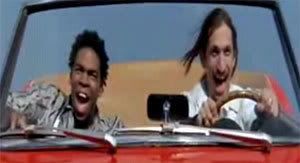 Ferris: Hi. Do you speak English?
Garage Attendant: Uh, what country do you think this is?
Even better is the casting of these two, the amazing Richard Edston from Jim Jarmusch's "Stranger Than Paradise" - no joke, he was Sonic Youth's original drummer - and Larry Flash Jenkins (he also had a bit, but memorable role in the inimitable "Fletch").

Baseball games take up an entire afternoon. Not only that, in 'Day Off' Ferris, Cameron and Sloane tool around Chicago, go out for lunch, watch an entire ballgame, watch and sing in a parade and then go pick up the dad's red hot wheels.

Could you imagine the kinds of shenannigans these could have got up to in that time? They could have done a whole movie about that eight-or-so hours and we've thought that ever since we were kids (which begat this whole post when we first heard why Apatow wanted to make "Pineapple Express"). Driving to see Jenkin's baby mama for a quickie? Picking up weed at a drug deal turned sour? Picking up little Leroy or Raoul from your ex's to take to your Ma's house for a strange, stoned, sitdown come to Jesus about the boys' adolescent antics? The possibilities of this script are endless. Both these two are a little old now, but man, in their prime? They were just Apatow-esque side character that were sorely undervalued and underused.

John Hughes where are you when we need you? BTW, we liked "Pineapple Express" (we saw it about two weeks ago), but we didn't love it, like we had hoped.