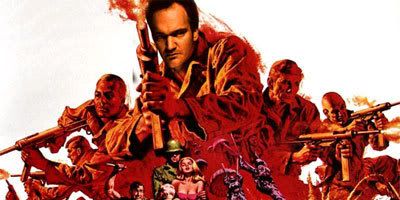 Having just finished reading the script for Quentin Tarantino's "Inglorious Bastards," this past weekend our heads were not only knocked out by some of the writing, they were swirling with casting ideas too. But if you haven't read the script, go no further as there will be unintentional small spoilers here. Keep in mind, if executed as it is in the script (as it should be), "Inglorious Bastards," is practically a foreign film with a good 60-70% of the film spoken in German or French with English subtitles. Set in WWII during Nazi-occupied France, American actors in these roles won't do and Quentin (hopefully) is fully aware. Thus the film will (should) have a unique cast of Americans, Brits and foreign superstars not as well recognized in the U.S. (seriously, if they can't get that right, just fucking blow up the production right now and don't even bother). However, as Tarantino himself said, "it's not a period piece" and should stay "modern." Either way, don't be surprised if QT revives the career of some old Fassbinder actors for smaller bit parts too. It's kind of a shame Klaus Kinski is dead too.



Lt. Aldo Raine - Brad Pitt
Mr. Angelina Jolie has already been touted as being in discussion to play the Tennessee hillbilly from the mountains, and god, he would be so perfect. Using a southern twang, and with his proven ability to play likable dumbasses, they must cast Pitt in this role of this nutjob scalp-collecting "Aldo the Apache." Tarantino can't spell for shit, but we're willing to bet the reason why "Basterds" is spelled wrong in the script is because Aldo, the leader who named the group, is a self-proclaimed uneducated shit for brains.



Shosanna Dreyfus - Marion Cotillard
Like all recent Tarantino flicks, a female protagonist is the lead. While she's not as vengeful as Beatrix Kiddo, she does have spunk, but has to be played by someone with looks, acting chops and the ability to speak, natural and fluent French. No American female can fake her way through it, so Cotillard, gorgeous, charming and talented, would be more than apropos.


Marcel - Isaach De Bankolé
While De Bankolé's hostile-looking face often gets him cast as mercenary villains (see "Casino Royale,") it's his roles in Jim Jarmusch films – particularly, "Ghost Dog: The Way Of The Samurai," as Raymond, the affable Haitian ice cream salesman – that makes him ideal to play Marcel, the good natured and affectionate film projector and lover of Shosanna. Yes, he could stand to be a touch older, but it's nothing some salt n' pepper in his hair can't fix.


Col. Hans Landa - Devid Striesow
It's really a shame Ulrich Mühe of "The Lives Of Others " passed away of cancer last year, as he would be stunningly perfect to play one of the Germans if not, the Gerry, the cunning and Machiavellian "Jewhunter," Col. Hans Landa, but also equally fetching for the role is Devid Striesow, who played the unctuous and arch Nazi SS leader Friedrich Herzog in "The Counterfeiters."



Sgt. Donny Donowitz - "The Bear Jew" - Micheal Madsen
During his "Reservoir Dogs" days, Madsen might have been too lean to play the role of the baseball-bat beating "Bear Jew," but now that he's expanded his waistline substantially, the swollen actor could easily play the Babe Ruth-like batboy who loves to bash Nazi skulls in.


Bridget Von Hammersmark - Alexandra Maria Lara or...
There's many ways you can cast the role of Von Hammersmark, the German actress/ undercover British spy, you can go foreign Hollywood for brand name (relative) recognition and looks, Alexandra Maria Lara from "Control", or the more buxomy Adriana Titieni who played the red-haired seductress in Coppola's "Youth Without Youth" for cabaret-like authenticity (ala elegant aristocracy of Visconti's "The Damned"). If not her, maybe the older Martina Gedeck from "The Good Shepherd" played to look younger. Either way, Carice van Houten from "Black Book" probably shouldn't be cast in this thing at all considering she's the lead German female in Tom Cruise's "Valkryie," and there's definitely some era overlap there that's too close, otherwise we'd say give her the most prominent female German lead you can (even though she's Dutch, she can speak it well). There's always Nastassja Kinski too, but what the hell has she been up to in recent years? Franka Potente works too.


Pvt. Hirschberg - John Hawkes
Let's face it, unless you've read the script more than once and have a super strong feel for the rest of the 'Basterds,' who are certainly underwritten, much of this is guess work, but for whatever reason, we pictured the rail thin Hawkes (the male lead from "Me And You And Everyone We Know") as one of the American soldiers who lives almost up until the end speaking some comical Eyetaliano in the cinema with a bomb strapped to his leg. Maybe it was his turn in "American Gangster" as one of the cops that proves he can also play the part of a tough guy.



Fredrick Zoller - August Diehl
Diehl has both the looks to play an attractive actor and the range to play a German war hero who if pushed far enough can snap. Just pop in "The Counterfeiters" to see his jagged performance as the unhinged concentration camp dissenter and you'll totally see it.



Lt. Archie Hicox - Tim Roth
There's only one major British character in the film and it's the Scotch drinking lieutenant Hicox who's cool as a cucumber and a total pro. Plus Tim Roth hasn't worked with Q in a long time and he's overdue for a spot.



Madame Mimieux - Catherine Deneuve
For the great impetuous French doyenne of the cinematheque, it would be rather perfect to cast the great French dame of the cinema don't you think? Small role, but nuff said. Can't you just see her slapping that cigarette out of Cotillard's mouth with haughty disdain?



Francesca - Julie Delpy
Again, it's a small role, but it calls for a young French woman to play interpreter for the Germans. How about some against type casting with Julie Delpy playing a more self-serving and colluding frenchwoman. Plus, Tarantino does love his blondes. One friend suggested Audrey Tatou here and that would also work swimmingly.



Major Hellstrom - Karl Markovics
The sly and extremely perceptive German Hellstrom probably only gets around ten-fifteen minutes of screen time total, but this role and scene as the Nazi who can spot the "pinky tell" and fraud Americans posing as Germans is clutch. The persona demands an imposing figure with a stare that can crack a statue. Markovics is key.



Hitler or Goebbels - Werner Herzog
Dare to dream, right? Could you imagine? Plus the great Bruno Ganz ("Wings Of Desire") already played Hilter in "Downfall," so that counts him out, but we'd love to see that Wim Wenders troupe actor cast here somewhere as well. Hopefully smaller German rank roles can be found for Moritz Bleibtreu from "Run Lola Run," Baki Davrak from "The Edge of Heaven," and Sebastian Koch from "The Lives Of Others."

We might be aiming too high for low-art enthusiast Tarantino, but oh well, we think these choices are great. As for the rest of the "Basterds," yes, it would be fun to try and cast them, but we're not even going to try as most of their roles are pretty thin and casting them would be any one's guess (though suggestions of Willem Dafoe are great, but it's hard to get a read on who is Aldo's second in command). It's also easy to stray close to the actors in "Saving Pvt. Ryan," but even characters that are supposed to be Jewish and seemingly perfect, Adam Goldberg for example, couldn't play a part here as they can't look too heeb, they're undercover after all. If you have casting suggestions for the rest of the players, please feel free to send them along and if we think they're spot-on and give us that, "holy shit, yes!" eureka response, we'll totally add to the piece, but to be honest this is all we've got that comes to mind and anything else would be forcing it.

PS, for the 10th hundred times QT dismissed rumors of Stallone, Schwarzenegger and Bruce Willis during the press cycle for "Grindhouse," but to be completely honest, we wouldn't be totally surprised if Willis showed up here somewhere. Maybe even as Raine if Pitt couldn't play the role for whatever reason, but god that would totally transform the film, and pretty much ruin it in our minds.

Update: For those just arriving now. Leo DiCaprio as Col Hans Landa?? What a terrible idea. Maybe we are giving Tarantino far too much credit.