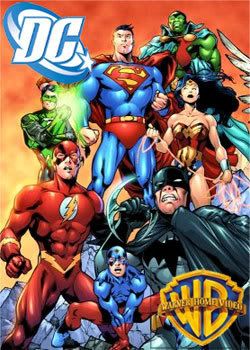 We noted it earlier this year...With the success of "Iron Man," and the relative (sort of, not really) success of "The Hulk," not to mention the shitton of other projects that Marvel Studios have in the can, D.C. Comics is behind the eight ball with their movie properties and a strategy rethink it about to happen according to the Hollywood Reporter. Yes, yes, Nikki Finke, you called this, we get it. ;)

Warner Bros. has generally been working D.C.'s properties, Batman and Superman and... well, that's about it. Film projects based on their other heroes like Wonder Woman and most notably and recently, The Justice League Of America have floundered in going-nowheresville.

WB and DC have just met and the meeting prolly went a little like this:

DC execs: Dudes, what the fuck!? Marvel is kicking our ass, what gives!?
WB suits: Guys, c'mon Batman has done really well, Superman was loved by many old people. These spreadsheet show that in Korea, audiences can't wait for a Martian Manhunter film, this looks promising!
DC mob: [burning stares across the marble corporate table]
Clueless WB: According to our calculations and research, audiences are going to grow tired of Marvel properties in the year 2013! [nervous smiles]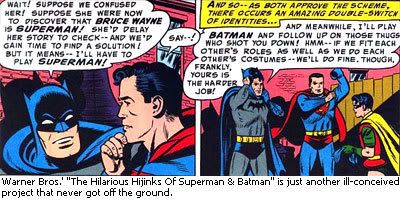 Warner declined to comment on what was actually said at the meetings, but that pretty much nails it we bet. Either way, whatever comes from their corporate pow wow and group think, a large announcement will be made to please the shareholders soon enough. Much like Marvel's overambitious announcement earlier this year, where they announced flicks based on the Avengers, Thor and Captain America, D.C. will likely announce a slew of projects based on Wonder Woman, The Flash, The Green Lantern and other similarly lesser characters not worthy of an entire feature film expected to be delivered in a comparably unreasonable and rushed time frame.

WB says:
"While we are not going to go into the specifics of the meetings, we're constantly looking at how best to exploit the DC Comics characters and properties. DC is an incredibly valuable asset to Warner Bros. and plays an important role across the entire studio by providing development and franchise opportunities for all media, including films, television, home entertainment, animation, consumer products, video games and digital platforms."

Send in the toys!