The recent marketing for the next years far-fetched action drama "Outlander" has begun, and its lead role will be played by none other the than actor who played the high profile role of Jesus in Mel Gibson's "Passion of the Christ." James Caviezel was a young, good-looking leading man on the brink back in 2004, but just four years later he is being relegated to a role as a dragon hunter from another planet who must learn to cooperate with the vikings (sounds like a winner, right?). What happened to Caviezel? Did you see his outstanding breakthrough performance in Terrence Malick's "The Thin Red Line" as the innocent and tangibly alive solider, Pvt. Witt? God, what a promising performance that was (ok, we still sort of have a mancrush).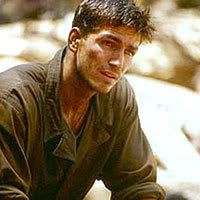 Who is this guys agent? After a the high caliber role in "Passion" he should have been on fire, landing one meaty role after the next. But instead his star is falling fast (did you see him in that piece of shit Tony Scott film, "Deja Vu"???), he is starring in a ridiculous dragon hunting drama, and has no decent prospects in the near future. This type of (possibly agent induced) fallout brings to mind a few other actors and actresses who after impressive roles who should have gone on to stardom, but instead shit the bed, choosing role after role of permanent stain on their resumes and sullied their careers beyond repair. Where was their management when this was happening? Must have been busy prowling the junior highs of Hollywood looking for the new cast of "High School Musical" (they need somebody to step in if Efron gets facial hair). We take a closer look at some similar underachieving losers not living up to their full potential.

With an impressive CV early in her career ("

Drugstore Cowboy

"), including the infamous role of roller-girl in

Paul Thomas Anderson

's seminal film of the 1990s,"
Boogie Nights,
" her career has

completely

gone down the

shitter

in recent years, with her biggest performance in the past few years being her nine-episode arc on "

Scrubs

." Following "
Austin Powers: The Spy who Shagged Me
" Graham was poised to become a star, but instead followed it up with such career sinkers as "

Committed

" and "Say it

Ain't

So" and a spate of total garbage performances and films. Oh, she'll take her clothes off at the drop of her hat (we basically feel like we know what's it like to have sex with her and while it was great, we've moved on), but even that can't get her a decent walk-on in anything above a B-movie. What agent could recommend these roles to an up-and coming actor? There must have been a few decent scripts floating there her office there for a while. Her feature, "
Miss Conception
" was released earlier this year, and guess what, nobody even noticed. Watch for Graham, maybe her agent will book her in a guest spot on "The Two

Coreys

."
After her breakout big screen role in "
Charlie's Angels
,"

Liu

continued to experience success by starring as the crime lord O-

Ren

Ishii

in Quentin

Tarantino

's disturbingly popular contemporary B-movie "
Kill Bill
." But since she has only had one other notable screen appearance, in Paul

McGuigan's

neo

-

noir

"
Lucky Number

Slevin
," (which was crap) other than which her resume is not littered with better-not-mentioned projects like "
Code Name: The Cleaner
" (when you're co-starring in a film with

Cedric The Entertainer

you have problems).

Liu

has recently attempted to become a fixture on not-quite

primetime

TV by making numerous guest appearance in shows with mild ratings and also starring in "
Cashmere Mafia
," which was not renewed by ABC for a second season. Where will

Liu

turn next? Maybe a
reality show in which her and

Bill Murray

ride cross country in a

Prius
is what she needs to get back on the map, but it sounds like he was on to her

fradulent

"skills."

His career trajectory could also double as a manual/cautionary tale for young actors wondering what projects
not
to take following an Oscar win. After

Gooding

Jr.'s unexpected Oscar victory for "
Jerry

Maguire
" his career fell of so hard it has

virtually

become Hollywood legend (You'll recall he was just as surprised and baffled as you were that someone would award him for his acting that night). There wasn't even a slow trickle of career

drop off

, it was just Academy Award winner, then

bam

!, "
Chill Factor
." It went from bad to worse with "
Rat Race
" and "
Snow Dogs,
" and there hasn't been a sign of life from the actor since (we're

pretty

sure his agent had a debilitating drug dependency at the time and

Gooding

Jr. was too nice to say no). As for his so called comeback we kept hearing about in

Ridley

Scott's bloated drug epic "
American Gangster
," what the fuck was that? He had like three scenes, none of which were of remote importance to the movie. His newest movie, "
Harold

," looks to bad to even comment on.
If

anyones

career is the

ne plus ultra

example of prestige to laughing stock, Cuba's is sadly the one. Some of these actors we've noted are

not

beyond help, but there can't be a bigger lost cause than the

assclown

Gooding Jr.

What is it about this guy that keeps him off the A-list? His comically thick New York accent, the fact that his nose is practically glued to one side of face? We don't know, but for one of the most well-known actors in America, it is surprising that he hasn't had more than three notable leading roles. Brody was thrust unto our conscious after starring as a hungry

heeb

in

Roman Polanski

's World War II period piece, "
The Pianist
," which earned him the honor of the youngest male to ever win the Best Actor Oscar. And we waited and waited for him to bust out as leading man in Hollywood, but he never really showed up. "
The Jacket
" was a total bust, and "
The Village
" was a joke, so our exposure to Brody has been limited. "

King Kong

" did strong box-office business, but it was still B-movie fare. His role as the struggling private detective in "
Hollywoodland
" was promising, but lets face it, he was about all that thing had.
Wes Anderson
threw him a life jacket by casting him in his dramatic comedy about white people and their inner-family problems, "
The Darjeeling Limited
," but our patience is running out. We're beginning t0 realize that Brody may have missed the boat and will be relegated to semi-notable supporting actor for the rest of his career.
The handsome, young Brit actor who also appeared in Terrence

Malick

's "
The Thin Red Line
" was poised for a breakout, but instead has been stuck in constrictive roles in piece of shit movies, like "
Lost Souls
," where he co-starred along side
Winona Rider
(another relatively flailing actress of late)
. Chaplin did get a substantial role in Steve

Stockman

's "
Two Weeks
," and had a decent turn in the little-seen Nicole

Kidman

flick, "

Birthday Girl

," but it feels as though he should be beyond that by now. Not to mention he suffered the ultimately indignity by having to pimp out his accent in last year's "
The Water Horse: Legends of the Deep.
" Come on man, it may be harder to get work in Hollywood as a Brit, but you can do better than that.
After successfully creeping the shit out of us as the weird but

innocent

neighbor in "
American Beauty
" who could appreciate the simple beauty in a plastic bag

and

a guy with a fatal gunshot wound to the head, Bentley has failed to do anything noteworthy since (see horror shit like, "Soul Survivors," and decent projects that tanked, "The Four Feathers" alongside

Heath Ledger

). His performance in 'Beauty' should have placed him in a position to nab

at least

a few quality supporting roles. Instead, it seems that Bentley and management have yet to figure out the sweet science of quality role picking, and now instead of a young actor coming off a big movie he is a slightly-less young actor who has done forgettable roles for the past few years; the latter being much harder to sell. Note between 'Beauty' in 1999 and 2007's "

Weirdsville

," Bentley has only appeared in

five

films with a large gap between 02 and 05. Either he's been super picky, had personal issues or indeed, has been trying to ditch his agent all this time (Way after the fact update: Oh, he was a heroin addict. That explains everything!)
Be Careful Young Hollywood

Young Hollywood, we know you all got nice pictures on the beach and loads of praise last week when Vanity Fair decided to spend a few pages on you, but don't let it go to your head, you could be out on the street sucking for crack before you know it.
Emma Stone
, we are especially concerned with you. We have a soft-spot for you and loved your charming performance in "

Superbad

", but

"

The Rocker

" and "

House Bunny

"? Watch out dear, it's a slippery slope...



Honorable mention

:

Geena Davis

(never recovered),

Marisa Tomei

(who bounced back).

There must be many more examples of actors that need to fire their agents. Who do you think needs to shitcan their representation and start anew?