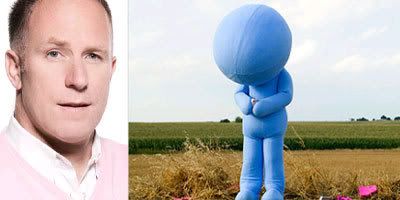 You may or may not have yet heard of the sweet sounding comedy, "Kabluey," the debut feature of triple threat writer/director/ actor Scott Prendergast.

It's basically about a going-nowhere guy who takes a humiliating job as a giant blue corporate mascot in order to help his struggling stay family together (it also stars Lisa Kudrow, Teri Garr, Christine Taylor, and Angela Sarafyan).


The New York Times recently gave it a very positive review and the film currently has a very promising 89% fresh rating at Rotten Tomatoes. It's in very limited release at the moment (opened last week in New York, it opens this weekend in Los Angeles), but it sounds like an extremely winning film.

We're a bit behind on this one (as are most people frankly), but we were pleased to learn that Imperial Teen frontman/guitarist, ex-Faith No More keyboardist Roddy Bottum, composed the score for this one. Bottum's quietly dabbled in film scores all this time (we never knew) and he's got quite the list of credits to his name (the TV show "Help Me Help You," the 2003 documentary, "The Cucumber Incident," and the 2005 comedy, "Adam & Steve").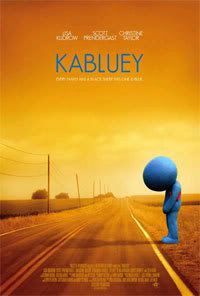 Bottum was kind enough to float us three pieces of music he wrote for the film, which is grand since there's currently no plans for a soundtrack release. If and when you become a big fan of the film (which you already mayt be), this might be your only chance to hear some of his bittersweet compositions outside of the film. The full synopsis:

A slacker tries to do the right thing for his family with unexpectedly chaotic results in this independent comedy. Salman (Scott Prendergast) is an out-of-work twenty-something who has few skills and fewer prospects. However, things are significantly worse for his older brother -- his National Guard unit has been called back to Iraq, and his wife Leslie (Lisa Kudrow) needs to go back to work in order to support their children. However, Leslie doesn't have anyone to look after her two sons, so when Salman learns of her sad situation, he volunteers to move in and help mind the kids. Salman quickly discovers the boys are nearly psychotic and will stop at nothing to get him out of the house, including putting sharp objects in his breakfast. With the household still short on money, Leslie helps Salman get a job, and soon he's become the corporate mascot for a failing internet company, who pounds the pavement wearing a strange blue costume hoping to drum up interest in renting space in the corporate offices.
The trailer also features some of Bottum's winsome score and the Honey Brothers' track "Some Of Them Are Nice Days"