Finally some real news about "Inglorious Bastards," no one knows anything! Vulture talked to Michael Madsen, one of the actors who was once going to play a character called Babe Buchinsky, a part the NYmag bloggers say, "no longer exists in the most recent draft of the script."

But guys, clearly that's the old name for the same character (or slightly re-tweaked) now redubbed Sgt. Donny Donowitz. The alliteration, the fact he's the baseball touting soldier who beats Germans to death, the name the 'Babe'? (guess he thought that was too obvious, you'll recall there is a Babe Ruth reference in the script's directions)

Now that we have that cleared up, Vulture finds out that Madsen has no clue if he's going to be included in the film or not.

"I wish I knew the answer to that, but it's like asking McCain who his V.P. is gonna be. I've been on the IMDb connected to that project for a very long time, but they're taking it to a studio and therefore my participation in the project is unknown, because that's a different world. I have to wait and count on Quentin to pull me in at the last minute and give me a decent role. I hope that he does, but I'm certainly not going to stay awake at night worrying about it. I'm gainfully employed, and expect to be for some time. I love to work for Quentin and hope that I'm in it, but if I'm not, it doesn't fucking mean that I'm going to jump off a cliff."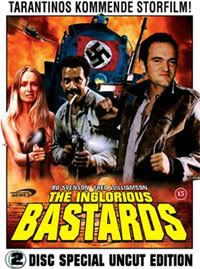 Clearly Madsen is a) not cry a river and b) probably aware, as many are, that he's probably too old for the part now. We included Madsen as Donowitz in our "Inglorious Bastards" casting piece, but hadn't completely digested that idea fully. Now with some thought, we realize this is probably off. From what we can gather, Lt. Aldo Raine (probably to be played by Brad Pitt) is the leader of the Basterds, the eldest and the wisest (relatively speaking of course, they are foot soldiers after all). Even if they did cast someone else who was older than Pitt, the script does seem to call for a Donowitz that would be younger than either of them (most of the Basterds seem like they're between 20-35, max). Madsen continues...

"I'm not gonna just hang my hat on Inglorious Bastards and say, 'This is the one for me.' You never know what that's gonna be, and you can't spend your life thinking about it. You'll make a great film when you least expect it, or don't really anticipate it … I don't have a crystal ball or time machine, I can't know what's going to happen. I just want longevity."
Is someone in the know and trying to manage our expectations? We will see Madsen in a smaller role reserved for a grizzled, older character perhaps? Oh, the official "no Leonardo DiCaprio in this film" campaign starts right here. We'll start a blog called Never Go Full Retard in protest if we have to.