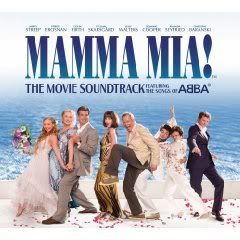 The four members of ABBA made a rare appearance in Sweden this weekend at the premiere of "Mama Mia!," the feature-length adaptation of the musical based on their songs.

It's the first time the whole band has shown their faces in public in years and they were once rumored to have been offered a billion dollars to reunite for a world tour a few years ago.

Due in theaters July 18, the film includes 22 classic ABBA songs including "Dancing Queen," "Take a Chance on Me" and "The Winner Takes It All. The soundtrack is due July 8 and features 17 tracks. We honestly don't know (or care?) much about this musical or film, but ABBA's pristinely crafted sugary and sparkling pop will always have a place in the pantheon so we can't hate too much, but we will say certain people have some strange tans in this movie.

Ps, those waiting for an ABBA reunion shouldn't hold their breath, principal songwriter Bjorn Ulvaeus, told the London Telegraph,"We will never appear on stage again. There is simply no motivation to re-group. Money is not a factor and we would like people to remember us as we were."

"Mama Mia" soundtrack tracklist
1. Honey, Honey
2. Money, Money, Money
3. Mamma Mia Listen
4. Dancing Queen
5. Our Last Summer
6. Lay All Your Love On Me
7. Super Trouper
8. Gimme! Gimme! Gimme!
9. The Name of the Game
10. Voulez-Vous
11. SOS
12. Does Your Mother Know
13. Slipping Through My Fingers
14. The Winner Takes It All
15. When All Is Said And Done
16. Take a Chance on Me
17. I Have a Dream
"Mama Mia" trailer


Scene: "Lay Your Love On Me" from "Mama Mia!"

Download: Abba - "Intermezzo No. 1"