Whoa, now we're getting way meta and waaay deep. Ok, so the "Tropic Thunder" viral marketing campaign has created fake websites for each of the characters in the movie, right? Ben Stiller's clueless action hero, Tugg Speedman, Robert Downey Jr.'s humorless method actor Kirk Lazarus and now we have Jack Black's fart-happy infantile comedian Jeff Portnoy complete with another site for his "upcoming comedy" "Fatties 2" - a not so veiled dig at Eddie Murphy's fatsuit proclivities and near-retarded humor ideas.


However, the deeper, more meta-jewel of it all is within' Portnoy's filmography section which includes "Heat Vision & Jack," a real-life 1999 TV pilot that was created for Fox. Directed by Ben Stiller, the show included two relatively unknowns at the time, Jack Black as the series' protagonist and Owen Wilson - the voice of the titular talking motorcycle, "Heat Vision" (Wilson was supposed to cameo in "Tropic Thunder," until his alleged suicide attempt derailed that idea and instead Black Matthew McConaughey took his part.).


"Heat Vision & Jack" was never picked up as a TV series (obviously), but a huge cult following evolved around it from what survives on YouTube and the web, so it's a very nice sly nod to those fans (there are a bunch of websites dedicated to 'HV&J').

A 'Heat Vision' synopsis from YouTube:

"Written by Dan Harmon and Rob Schrab, directed by Ben Stiller, this series was passed over by Fox despite critical acclaim from those who've been lucky enough to see it. The 30 minute pilot is about an astronaut (played by Jack Black) with a medical secret who is on the run from the evil Ron Silver and the rest of NASA, with the help of a talking motorcycle called Heat Vision (voiced by Owen Wilson)."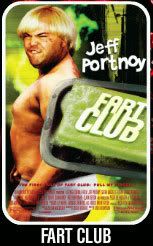 These sites were getting a bit much, but we have to tip our cap to this obscure little nod. Other films in Portnoy's oeuvre include "Fart Club" (an obvious play off "Fight Club"), the first "Fatties" and of course, "Tropic Thunder."

Portnoy's biography notes that he was born an only child to Russian immigrants who went gastronomical surgery at an early age. A humiliating high school incident left his parents so embarrassed, they abandoned the actor as a teenager to fend for himself. GQ is "quoted" as saying, "Jeff Portnoy outdoes even himself...and brings disgusting to a whole new level."

Ok, this has been fun and the homage is sweet, but guys, enough already. Had this one not been the ace in the hole, it woulda been overkill. Quit while you're ahead.

Watch: "Heat Vision & Jack" the entire 30-minute pilot