Last night we caught the New York/Brooklyn premiere of the Judd Apatow stoner action comedy, "Pineapple Express" directed by David Gordon Green and starring Seth Rogen and James Franco that was all part of DGG film fest week at BAM.

Like many other movie fans, it was probably one of our most highly anticipated films of the summer (if not the most) and high expectations can sometimes be problematic. To be an apologist about it, we didn't love it like everyone else seemed to, including our big group of friends (surprise, we have "friends"!), but we did enjoy it a lot and we laughed hard most of the time. Mr. Snruff's preview of the film that we posted in mid May prepped us for the fact that there would be a lot of violence in the film so we weren't as shocked as everyone else seemed to be (not because it was shocking, more because it was unexpected), but two things about the violence: one it shifted the tone from the usual Apatow milieu slightly (though it was still similar) and two, a lot of the violence was actually some of the funniest moments in the movie (for better or worse, you'd think smart-funny lines of dialogue would be funnier than a titty-twist mid fight).


As Mr. Snruff noted, Danny R. McBride as the drug dealer Red, stole most of the show and almost every scene he was in. He might not be able to carry an entire film like, "Fist Foot Way" (though that was sort of just the writing - it shoulda been just a short film). but as a side player he's amazing comic relief that's obviously don't on the fly in incredibly assured improv style.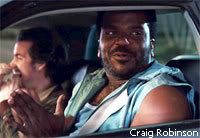 Bit part performances by Rosie Perez, Kevin Corrigan were great and Gary Cole was particularly excellent (he's Will Ferrell's deadbeat dad in "Talladega Nights"), but man, we've said it once, we'll say it again, Craig Robinson is funny as shit and could be a star given the right role (he's the doorman in "Knocked Up" that won't give Katherine Heigl and Leslie Mann access to the club - "I would love to tear that ass up, but you too damn old for this club.").

Though it's not quite the bonding bromance that "Superbad" is ultimately, there are similar moments of tender male friendship issues emblematic of all the Apatow films (and even though there wasn't a lot of bonding tenderness in "Superbad" it felt slightly more poignant that what's offered in 'Pineapple'). Franco definitely shined as the stoner of the duo , but Amber Heard? Eh, we woulda much rather seen a richer character and maybe Oliver Thirlby, originally cast in this role, could have provided some more depth, though the role was rather thin.

There's a few almost-lyrical moments in the movie in the woods that almost seemed like David Gordon Green was trying to mock and send-up his old style. His cinematographer Tim Orr was still on board for this one and there were a few nods and shots to the pastoral prettiness he's so fond of, but yeah, otherwise this wasn't anything like his old work. Much like Christopher Nolan in "The Dark Knight," a lot of Green's action sequences need some work, but generally they were so amusing, you probably wouldn't notice.

Surprisingly, there weren't that many musical moments in the film considering all the music in the film and when they were there they were subtle (we don't even remember where the Spiritualized song was in the film, but we suspect it was in the friendship, come-to-jesus scene). We were sort of warned that there were too many musical montages in the film and there were maybe three and they were short and never overstayed their welcome (our favorite was the driving sequence to Public Enemy's "Lost At Birth")

There were definitely some choice moments though. The selling weeds to the kids scene was a riot and the final scene in the movie (without spoiling anything major is simply just a bro-ing down scene in a restaurant that Green said was completely improvised and not in the script. They set up a camera for three hours (!) and just let 'er rip. This does speak to the comedy improv of the Apatow crew cause this scene was utterly hilarious. Is this our "review"? Kinda slovenly, no? Oh well. [B].

[full disclosure: we had a loud, talking jackass sitting behind us the whole time - dude, we literally wanted to turn around and stab you multiple times until you shut the fuck up forever - but the same thing happened to us at "Hamlet 2" and that didn't deter our enjoyment of the film, so it's debatable whether it tainted our impression or not, but we figured we'd put that out there. Generally we let that that stuff slide. BUT...Fuck it, the guy was a portly round British dude and he must live in Brooklyn we assume. Dude, if your friends somehow read this and send this to you: Do us all a fucking favor and never go see a movie in a theater again or prepare to be murdered :) Fair warning]

Download: Public Enemy - "Lost At Birth"
Watch: "Pineapple Express" Scene: "I Made A Mistake"
Watch: "Pineapple Express" Scene: "Car Chase"