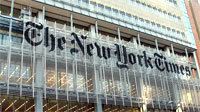 The newspaper and magazine industries have recently run into struggles to stay afloat and relevant in an age where they are forced to compete for readership and advertising with young people on the Internet providing news that has an angle foreign to the oldtimers, its entertaining (fucking kids). But the clever, moldy old bastards over at the New York Times might have just found a way to end major layoffs plaguing the industry as of late, as deftly illustrated in the fictionalized version of the Baltimore Sun in season five of David Simon's multi-dimensioned social commentary, "The Wire," and continue funding that blog-like thing they bother to edit and print off everyday.
The print-journalism industry isn't the only industry that foresees major "economic challenges" in their future, major Hollywood studios can see the writing on the wall and realize that there are only so many times they can recycle old comic books, graphic novels and classic movies before the viewers catch on and abandon their market. What did the execs do when they realized this? Well naturally they woke up, poured themselves a nice glass of cognac and went out to their front door to grab the paper and

bam

, like that all their prayers were answered.
Somewhere along the way studios realized that the original stories with the real-life grittiness were sitting in front of them all along, in the newspapers.
So far the NY Times has had

fifteen

stories optioned for movie deals
, including the
ultra ridiculous move by

J.J. Abrams

to acquire the rights to an article about an apartment with

mysteriousness

built right in! ( as created by a

wackjob

architect
)

The most recent option for the Times is the
June 22

nd

article written by Brooke

Hauser

which follows the prom nights of immigrant Brooklyn seniors who despite all odds finally got the opportunity to experience the quintessential American right to an evening of public intoxication and/or loose their virginity in a cheaper version of Motel 6.
So newspapers, it looks like you have finally joined the ranks of goal-oriented idealist who at one time or another were presented with the opportunity to sellout, and you took it! Congratulations!