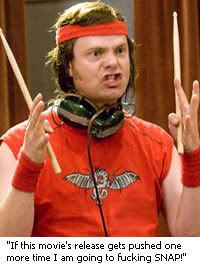 How bad can Rainn Wilson's "The Rocker" be? That's a bad question to ask of us, as we hate his shtick and wouldn't be caught dead paying for one of his films. But what about you, the undiscerning public that won't mind chomping away at nachos while guffawing along to all his stupid corny jokes?

For one it's been pushed back AGAIN. First it was due in the spring, then it was scheduled for the beginning of August and now it's been dumped to late August, again. Is this the most unloved film of 2008? In May, the official site for this thing still read "coming spring 2008!" (it had already been pushed to the summer at that point). Now the film's website is in such disrepair (it's basically broken) it's like they gave up, threw their hands in the and air and said, "fuck it."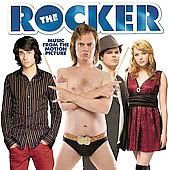 The other thing that we didn't realize is that milquetoast Buffalo singer/songwriter wuss Teddy Geiger is part of the film's cast and he wrote much of the soundtrack and rock songs in the film which features a cover of Poison's "Nothin' But A Good Time" (which you can hear below). The soundtrack, which comes out July 22, also features tracks by Vesuvius, the fake '80s band that Wilson's character was once in (written by the film's score composer Chad Fischer and some of his buddies).

This chuckleheaded conceit centers on a failed, over-the-hill drummer (Wilson) who, 20 years after getting booted out of his now uber-famous band, gets a second chance at fame with a new act, a high school garage band headed by his nephew (Josh Gad). It also stars name brand actress Christina Applegate and poor, cute little actress Emma Stone (get a new agent m'dear!). Never has a studio (Fox Atomic) seemingly cared less. Remember the ill-fated movie "Rock Star," with Mark Wahlberg and Jennifer Aniston based on the Judas Priest story when Rob Halford left the band and a Priest cover band singer joined the band in his stead? Umm, yeah. Hollywood needs to remember rock movies about nobodies generally never work.