The soundtrack CD details for the indie-rock teen romance comedy "Nick & Norah's Infinite Playlist" are out. Well, we've got all the music used in the film, plus the news that Devendra Banhart has a cameo in the film. How do we know? Well, we've seen it with our own two eyes, but we'll hold out a review for now.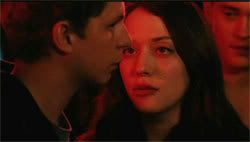 What does Banhart do in the film? Not alot; the indie Chewbacca walks out of a New York bodega that lead actress Kat Dennings walks into of while wearing one of his trademark furry Russian hats and he's with his buddies Kevin Barker from Aden and Currituck County. As we already noted Mark Mothersbaugh of Devo fame and almost all Wes Anderson films (minus "The Darjeeling Limited") composed the score and in a way it seems to be a small continuation of the casio-work he did in 'Life Aquatic,' or at least it's a jumping off point, as much of the score to 'Infinite Playlist' is electronic-twinged, effervescent and almost reminiscent of the Postal Service's twinkly and emo-tronic sounds.

Performing in the film are Bishop Allen who Michael Cera's queercore band "The Jerk Offs" open up for at New York's Arlene's Grocery and Project Jenny Project Jan who play a fake band (Are You Randy) that pose as the long-lost group in the film (called Where's Fluffy) playing a secret show that all the kids in the movie are desperately trying to find.



Music is used all over 'Nick & Nora' obviously, but a few songs get key montage treatment like Richard Hawley's lovely, "Baby Your My Light," the National's "All The Wine," Modest Mouse's "Little Motel"and Banhart's "Lover is also used quite prominently in the beginning of the film. So build your soundtrack now, the soundtrack CD, which is due September 23 on Atlantic, is missing songs featured in the film by Modest Mouse, The National, The Raveonettes, Matt & Kim, Project Jenny Project Jan and Dead 60's. The one new song in the film, is "Ottoman" a track Vampire Weekend recorded with Mothersbaugh.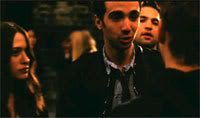 We noted when the trailer was released, there's a ton of cameos in 'Infinite Playlist,' aside from Banhart, including John Cho (Harold of "Harold & Kumar"), and Seth Meyers of SNL, but "Hot Rod"/SNL cast member Andy Samberg also has a pretty funny brief appearance in the film as well. Jay Baruchel (of the Judd Apatow family players troupe) actually has a full-blown role in the film a tough guy (yeah, wrap your head around that one). "Nick & Nora's Infinite Playlist" comes out October 3rd via Sony and will also premiere at the Toronto Film Festival in September.

The music of "Nick & Norah's Infinite Playlist"
Chris Bell "Speed Of Sound"
Devendra Banhart "Lover"
The Real Tuesday Weld "Last Words"
Takka Takka "Fever"
Band Of Horses "Our Swords"
Richard Hawley "Baby You're My Light"
Modest Mouse "Little Motel"
Project Jenny Project Jan "Negative"
Dead 60's "Riot Radio"
Paul Tiernan "How To Say Goodbye"
Army Navy "Silvery Sleds"
Shout Out Louds "Very Loud"
We Are Scientists "After Hours"
The Submarines "Xavia"
The National "All The Wine"
The Raveonettes "Twilight"
Bishop Allen "Middle Management"
Vampire Weekend "Ottoman"
Matt & Kim "Silver Tiles

Nick & Norah's Infinite Playlist soundtrack CD tracklist.
01 Chris Bell: "Speed of Sound"
02 Devendra Banhart: "Lover"
03 Bishop Allen: "Middle Management"
04 Vampire Weekend: "Ottoman"
05 The Dead 60s: "Riot Radio"
06 Takka Takka: "Fever"
07 The Submarines: "Xavia"
08 We Are Scientists: "After Hours"
09 Band of Horses: "Our Swords"
10 Army Navy: "Silvery Sleds"
11 Richard Hawley: "Baby, You're My Light"
12 Shout Out Louds: "Very Loud"
13 Paul Tiernan: "How to Say Goodbye"
14 The Real Tuesday Weld: "Last Words"

Download: Bishop Allen - "Middle Management" ('Infinite Playlist' trailer song)

Meanwhile one of the book's authors Rachel Cohn has made a playlist of many of the songs namechecked in the book which you can also find on Itunes.