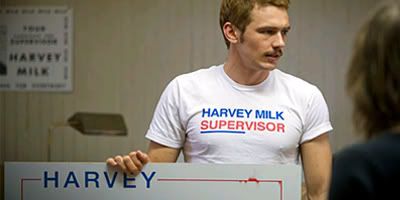 Just got an interesting tip from a friend who got a first look at Gus Van Sant's "Milk" starring Sean Penn as Harvey Milk, the first openly gay man elected to office in U.S. history slain in 1978 in his San Franciscan city (Milk was the supervisor to the city's then-mayor George Moscone who was also murdered) .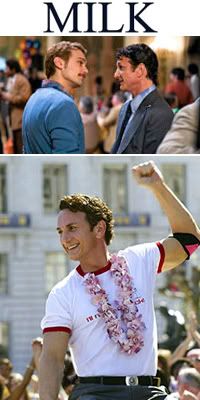 As you might have expected, considering the Oscar-bait-ness of the film (the heavy weight list of actors includes Josh Brolin, Emile Hirsch, James Franco and Diego Luna), the insider tell us the film is much more "old school" Gus Van Sant ala the assured and economical days of "Good Will Hunting," rather than his recent experimental phase ("Elephant," et al). Our tipster tell us the editing was fantastic, the use of old, archival footage rather seamless and adroit and that the film "pops" with vibrant color. Update: Heh, having read Jeffrey Wells' piece about our piece, we thought it was rather obvious. The tipster felt overall that the movie was "great," but didn't want to say too much outside of what we have above.

Man, we can't wait…

In the film, Josh Brolin plays Milk's assassin Dan Wite (who used the infamous Twinkie defense to try and get off), Franco and Luna play two of Milk's former boyfriends, Emile Hirsch has the role of an aide, Stephen Spinella is Harvey's political rival and Denis O'Hare acts as real-life Senator John Briggs.


"Milk" is due November 26 in select cities and then goes wider December 5 and 12.

The synop:

Academy Award nominee Gus Van Sant directs Academy Award winner Sean Penn as gay-rights icon Harvey Milk. Mr. Milk (1930-1978) was an activist and politician, and the first openly gay man to be elected to public office in America; in 1977, he was voted to the city supervisors' board of San Francisco. The following year, both he and the city's mayor George Moscone were shot to death by another city supervisor, Dan White. Mr. Milk was previously the subject of the Academy Award-winning documentary feature "The Times of Harvey Milk," but "Milk" -- filmed on location in San Francisco -- is the first non-documentary feature to explore the man's life and career.
In a strangely prescient omen about his death, Milk once recorded a message that can now be seen as a galvanizing cry to gay rights activism: "If a bullet should enter my brain, let that bullet destroy every closet door." Can't wait for a trailer, this is one of our most eagerly anticipated films of the year.