The Playlist had a man on the scene at last night's Largo show of Paul Thomas Anderson's new play. Here's the report:

Last night my friend and I went to go see the newest creative outing from writer-director Paul Thomas Anderson: an untitled short collection of vignettes all starring SNL's Fred Armisen and Maya Rudolph as various couples or couples-to-be or couples-has-been. In the NY Mag review of sorts they went way too softball and described it something like going through PTA's "Punch-Drunk Love" notebook of weirdos. 'PDL' being one of my all time favorite movies I grew more and more excited. Plus with Jon Brion doing the music this was sure to be a night of creative greatness.

I was very disappointed.


Let me help you get a very clear picture of what can happen with just actors reading dialogue and music in the background. About three years ago, I had the best theatre-going experience in my life with the Carter Burwell scored pair of sound plays Theatre for the New Ear. The first sound play written and directed by Francis Fregoli (a pseudonym for either the Coen brothers, Todd Haynes, David O. Russell, or most likely Charlie Kaufman) and was entitled "Anomalsia". It was a wonderful Barton Fink-esque brainfuck about a self help writer (David Thewlis) who while on tour fell in love to the voice of a disfigured woman (Jennifer Jason Leigh). He then goes insane imagining everyone else to be in love with him/ conspiring against him all played with the same voice by Tom Noonan (who's in the upcoming, abstract Kaufman mindfuckery "Synecdoche, New York.". That's a brief summary of course, its been three years but it was complicated, layered, haunting, and better then most recent films. Following that was the Charlie Kaufman written and directed "Hope Leaves the Theatre" which was a hysterically funny self-parody about a woman (Hope Davis) whose life is falling apart and has everything come out when her (very Jewish) mother (Meryl Streep) calls her while she's in the middle of a play starring Streep and Peter Dinklage about being stuck in an elevator for all of eternity. The play-within-the-play was "Charlie Kaufman's" last written work before he killed himself and Meryl Streep visously attacks Hope for interrupting their great ode and final homage to him. It had the entire theatre laughing on the floor.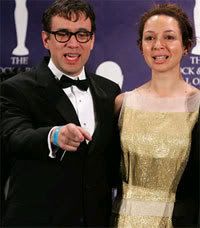 I honestly expected something along the lines of that last night. Paul Thomas Anderson is just as talented of a writer and director as Charlie Kaufman and any of the supposed Fregolis. Why should I expect something less? I should of smelled trouble when buying the tickets and the enthusiastic manager of the Largo told me that he just got off the phone with who was finishing writing it. That was just two weeks ago or so. I really wish he spent more time on it because that's all that these things needed. They all felt like under-developed jokes with an either lazy setup and a great punch line that was taking forever to get to or a clever idea that doesn't ever go anywhere. Highlights included a married couple who had been arguing all night settling it with a good old-fashioned duel, one actor saying something and the other making a ridiculously annoyed face, a Brazilian guitarist hitting on a vacationing writer, and a "ghetto" guy used to going out with fat-bottomed girls falling in love with a skinny girl constantly telling her how ugly she is. The best one of the bunch was the only one that wasn't a joke. Maya Rudolph read a short and sweet monologue as an old lady whose husband used to sell other people's recordings of piano music as her own not because he wanted money but to make her happy and convince her that she was a better piano player than she was. It was incredibly sweet and heart felt. Unfourtunatly it was completely out of place, the audience expecting a joke just about laughed at every line (it seemed like they would laugh at about anything).

The low-points was just about every other sketch. The two performers made the most of the material and gave it all they could. In fact, I hope he uses them one day to the best of their abilities and ranges shown tonight with strong developed material. Jon Brion's music was a lot like PTA's writing. Full of some good ideas here and there (especially the part where he sang) but ultimately nothing to write home (or to the playlist) about.

If it takes another five years for Paul to write a great movie then I will gladly wait those five years. I loved that he felt inspired to do something different but he needs time to make his ideas into something of real substance. - Hayden Maxwell
(Jon Brion photo credit: David Greenwald for Rawking Refuses To Stop)