Doing our mandatory homework. One or two people have been bitching that we haven't been doing enough music coverage (you know who you are). Frankly reporting dates and tracklists gets kind of old, but we do have some movie-music related news that we find relatively exciting.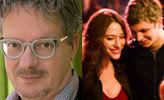 Mark Mothersbaugh
He'd been seemingly M.I.A. for a few years there having not worked on "The Darjeeling Limited," but composer/Devo founder Mark Mothersbaugh has kept busy. Not only is he scoring the upcoming indie-rock love-story comedy, "Nick & Nora's Infinite Playlist," the multi-instrumentalist has also written the score for the long-overdue Star Wars obsessives flick, "Fanboys" and the upcoming adaptation of the kids novel, "Cloudy with a Chance of Meatballs" that will be voiced by Andy Samberg and Anna Farris, but probably won't come out until 2010 (and to be fair to Mothersbaugh he's done a lot of work in in interim between Wes Anderson projects, but not many of them are films that you or I were probably interested in. Hello, "Mama's Boy?")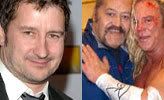 Clint Mansell
He's been working steadily ever since he broke into the movie scoring business with 1999's "Pi," but it's nice to hear that Mansell will be back for Darren Aronofsky's "The Wrestler," which was unexpectedly announced as part of the Venice Film Festival earlier this week – we weren't expecting it until 2009, and while news is scarce on the film, it does look like the film won't be in U.S. theaters until then. An early script review of the project by Slashfilm wondered aloud if Mansell would be back considering all the specific rock songs written into the script (tunes by Def Leppard, Cinderella, Great White, AC/DC , Motley Crue, Def Leppard, Warrant , Guns 'N Roses, Black Crowes, Skid Row, Celtic Frost, Lil 'Kim and a reference to Nirvana and how Kurt Cobain ruined music and "kick ass 80's music"), but our fears have subsided and he's back where he belongs with Aronofsky. Someone should send us this script, we're dying to read it. We assumed the pro-wrestling film was a comedy at first, but it appears we're very wrong (the character is seemingly modelled after Randy "Macho Man" Savage from the WWF in the '80s)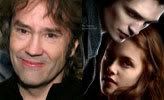 Carter Burwell
Longtime Coen Brothers composer Carter Burwell (he started with their debut "Blood Simple") is not only doing the score to their upcoming screwball CIA comedy "Burn After Reading" and Spike Jonze's "Where The Wild Things Are" (in 2010?), he's also found himself a pretty good job by scoring the "Twilight" gig. "Twilight" as we all know is a bonafide tweener phenomenon and will likely spawn about four sequels at least (there's four books, but the author think there should be five films), so this is a smart play for Burwell, who will not only likely get paid handsomely, he'll have steady work for years.

More Scores

We're admittedly unfamiliar with his work, but nonetheless, Steve Isle has composed the score to Guy Ritchie's crime caper, "Rock N' Rolla." His past credits don't include "Joe Strummer: The Future Is Unwritten" and the BAFTA-winning documentary, "The Dangerous School For Boys." The inimitable Phillip Glass is composing the score to the Meryl Streep, Dustin Hoffman drama "Doubt," Paul Cantelon the main behind the minimalist, but super-effective piano score of "The Diving Bell & The Butterfly" is writing the music for Oliver Stone's Bush biopic 'W' and Danny Elfman is re-teaming again with Gus Van Sant for his December chronicle of slain, openly-gay 1970s San Franciscan mayor Harvey Milk in the biopic "Milk" starring Sean Penn (the last film they did together was 1997's "Good Will Hunting").