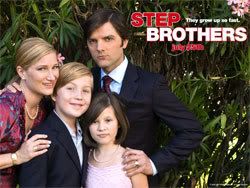 If you haven't seen the flat-out dementia of the Will Ferrell/John C. Reilly comedy "Step Brothers" you probably should. Produced by Judd Apatow and directed by Ferrell's longtime buddy Adam McKay (he directs/co-produces many Ferrell vehicles like 'Anchorman' and and 'Talladega Nights'), the film is spectacularly stupid and almost gloriously retarded. It was so idiotic, we almost didn't know what to make of it at first, and gave it a low grade. We still stand by that score as it's not a good movie per se, but shit if isn't pretty fucking funny in the most puerile manner.

As we noted in our original review, the scene-stealer of the film is Adam Scott, who plays Ferrell's overbearing and super successful older brother. This scene where he and his oh-so-perfect (well, minus the mom) sing an acapella version of Guns N' Roses' "Sweet Child of Mine," is pretty damn amusing to say the least. Scott plays such a perfectly smarmy jackass in the film and surely it's not going to go unnoticed. "Let me step in and save this with the solo," is surely going to one of the many one-liners in this film that begets the film a cult-comedy status, we bet.

While we're at it, it seems that a lot of the musical moments in the film have leaked online including the "Boats & Hoes" music video created by Ferrell and Reilly's dumbass characters and Ferrell's sweet rendition of Andrea Bocelli's " Por Ti Volare" (there's a centaur scene in that last scene why??? Catch Ferrell's lumberjack boner? LOL, that pretty much sums up the absurdity of the movie).

Seriously, we may have to go see this again.

Watch: "Sweet Child O' Mine" acapella from "Step Brothers"

Watch: Boats & Hoes" from "Step Brothers"

Watch: Will Ferrell - "Por Ti Volare"