You know these scenes from "Tropic Thunder" would eventually leak. Get it while it's hot and don't watch if don't want the ruin seeing Tom Cruise as a hirsute, bald and vile studio exec named Les Grossman. The scenes also include Matthew McConaughey's smaller role as Ben Stiller/Tugg Speedman's slimy Hollywood agent Rick Peck. The dance scenes in the second clip with Bill Hader (Grossman's assistant) are pretty amusing.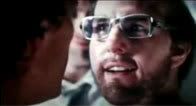 Cruise does a lot of dancing in the film to two songs not on the soundtrack. The first, in the second clip below is Flo Rida's "Low" and at the end of the film (not YT yet) to Ludacris' "Get Back" off the album The Red Light District.

It's all enough to put Cruise back on top, yeah? Not so says both Variety and the L.A. Times. If anything this juicy turn is a reminder to many how far Cruise has fallen off. Anne Thompson says his "star status is in flux," and the L.A. Times suggests his career is at a crossroads.

Tom Cruise as Les Grossman in "Tropic Thunder"