Charlie: Do you know the film, "The Discreet Charm of the Bourgeoise?" When I first saw that title, I though, "Finally, someone is going to tell the truth about the bourgeoisie. What a disappointment. It would be hard to imagine a less fair or accurate portrait.
Cynthia:

Well of course, Bunuel is a surrealist. Despising the bourgeoisie is part of their credo.
Nick:

(disgusted) Where do they get off.
Charlie:

The truth is the bourgeoisie does have a lot of charm.
Nick:

Of course it does, the surrealists were just a bunch of social climbers.
Bourgey

, urban

haute

indie auteur

Whit Stillman

is back!

Ok

, let's face it, not really. It's just that the comedy of manners director's debut film, 199

o's

"

Metropolitan

," is now available in its entirety for free on

Hulu

.com and because of this "event," Stillman is doing the press rounds again (and everyone doing that press, calm down, "Metropolitan" has been available on DVD for what, three years now? And it's not like Stillman hasn't talked to the press in the years that he's been gone).

We hate to be skeptical – we adore Stillman and his wry, erudite comedy that's fully entrenched in the
ironic mien
– but nothing seems to have really changed for him. He's

still

writing scripts and none of them are

still

being produced. It's a brutal indie market out there as it is, and we can't even imagine what it must be like for him.

Spoutblog

talked to him and got the white elephant in the room questions out of the way

toute

suite: where has he been and why hasn't he made a film in 10 years?

Well, apparently he's still working on his the Jamaica project, now titled, "

Dancing Mood

" and his other long-gestating/ going-nowhere project "

Little Green Men

," based on the novel by

Christopher Buckley

. Stillman says he's also written many other things, but doesn't divulge what those films are, but does say 'Mood,' is close to getting financing (note he said that three years ago too). "I think, the one that is set to go, as soon as the financing falls into place, is the Jamaica project. The characters are black Jamaicans in Kingston in the early '60s."


In an interview with

IFC

, Stillman got into the 'Mood' details a little bit more. Sounds like we'll have a lot of good music if/when it ever finds financing. "In the Jamaican story, I think the situation of the characters is much more endearing and likable [than my past films], and so I really hope that it'll be a breakout film in terms of popularity. We've gone back to the original title, which is 'Dancing Mood.' [We] called it 'Creation' for a while. It'll have a lot of music, but it's not really about music, and I think the characters are ingratiating and funny and I really hope financing will line up and we'll be able to do that soon."

Stillman also notes to Spout that his last feature, 1998's "

The Last Days Of Disco

" (which indie-rock trio Yo La

Tengo

named a fabulous song after; here's some of that movie's soundtrack) will get the illustious

Criterion Collection

treatment... eventually. "That contract has not been - I think Criterion is negotiating with one of the studios to bring it out. But, those negotiations are taking a

very

long time." Sigh, just everything Stillman does. But this is good news for people like us who have clung on to their ratty VHS copy for years now ("Metropolitan" also put out on Criterion,

but hello

, his masterwork "

Barcelona

"? Now the taste-making archivists need to put

that

film out, it's incredible sharp and funny; hands down our favorite Stillman film and actually one of our all-time fave '90s films).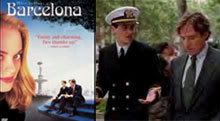 Stillman has apparently lived all over the place, Paris, Madrid, London, Jamaica and New York and his peripatetic ways seem to be in continual motion (is that why you can't get a movie made??).

If you've never seen "Metropolitan," well now you have no excuse. It's a bit dated and rough around the edges, but still great. And hey, it gave us the

smarminess

of Chris

Eigeman

(Noah

Baumbach

personally thanks you, Whit) and for that we are

eternally

grateful.
Download:

Brenton Wood – "The

Oogum

Boogum

Song" ["The Last Days of Disco" soundtrack]


Download:

Yo La

Tengo

– "The Last Days of Disco" [A track affectionately named after the film]


Scene: "Disco Will Never Die" from "The Last Days Of Disco"
Trailer: "Barcelona"
Watch: "Metropolitan"