Vanity Fair has gotten their hands on the first look of Bush's entire cabinet circa 2003 from Oliver Stone's upcoming Presidential biopic, "W." From left to right we have Jeffrey Wright as former Secretary of State General Colin Powell, Toby Jones as snake in the grass Karl Rove, Dennis Boutsikaris as then-Deputy Secretary of Defense Paul Wolfowitz, Richard Dreyfuss as VP Dick Cheney and, of course, Josh Brolin as the decider, George W. Bush.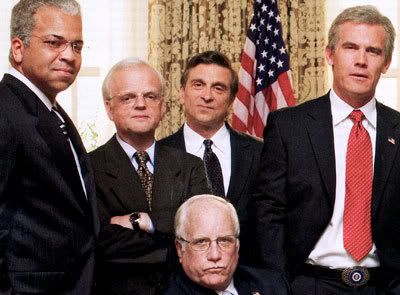 After that we have Thandie Newton as then-Deputy Secretary of State, Condoleezza Rice (what the fuck did they do to her eyes?), Rob Corddry as the White House Press Secretary Ari Fleischer, Bruce McGill as then-Director of Central Intelligence George Tenet and Scott Glenn as Donald Rumsfeld (the only actor that doesn't really look the part; at least not in this photo).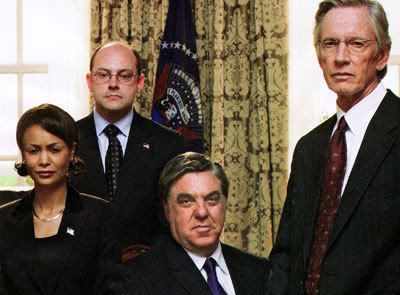 VF reminds us that Robert Duvall turned down the role of Dick Cheney and apparently a lot of Hollywood actors wouldn't touch this one with a 30-ft pole including, at least initially, Josh Brolin who was pretty skeptical before he met with Stone.