There's been some talk and rumors of the small-ish drama surrounding David Fincher's "The Curious Case of Benjamin Button." At one point it was rumored to be over a laborious three hours long and Fincher and Paramount (the studio behind the film) were apparently duking it out over length. Fincher is rather an obstreperous/ fastidious director and doesn't go down easily in a scuffle, so we could easily see him making these negotiations difficult for Paramount.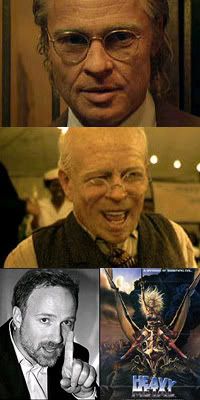 During this length tug of war, Paramount decided to drop Fincher's "Heavy Metal" project which he was going to executive produce. At the time the news didn't seem to be connected since it was before the length-issue with 'Button.' Slashfilm did some speculation about the two projects that sounds pretty spot on.

"The official reason given was that Fincher's vision of the ['Heavy Metal' project was too dark and sexy for the studio. But if one were to connect the dots, you see a connection to the supposed feud behind the scenes over the 'Ben Button' running time," they wrote in a Telluride 'Ben Button' preview piece.

Educated guess, but still speculation, right? Well, a random video we found of Kevin Eastman (current editor and publisher of the "Heavy Metal," magazine) talking with RBG Filter at Fan Expo in April 2008, basically confirms as much and essentially says Paramount was ransoming Heavy Metal against the running-time of Button.

"We developed it for Paramount in January... And it was time for them to make a decision [about going forward with the project] and they were at odds with Fincher over another project, 'The Curious Case of Benjamin Button,' [because] they wanted him to reduce the running time... and so they said, 'Until you step up to do what we want you to do with Benjamin, we're not going to greenlight any other of [your] movies.' And David said, 'Fine, fuck you, I'm going to set up [Heavy Metal] somewhere else,' so we jumped over to Sony and set it up there."
Pretty interesting, huh? Moreso considering the Paramount/HM fall out was announced on July 9, and clearly Eastman was talking about this back in April, so the "feud" took some time to get to the real press. Sony distributing the film, is new, right? We never heard that one before. Eastman says they'll be in production this fall. The publisher also said that Fincher wants to direct one of the animated "Heavy Metal" vignettes in the film anthology as does Guillermo del Toro ("Hellboy"), Gore Verbinski (" Pirates of the Caribbean") and Zack Snyder ("Watchmen").

Also worth noting? Spike Jonze was apparently once tapped to directed, 'Benjamin Button,' but it sounds like a totally different vision and script from the one Eric Roth wrote.

Speaking of Roth's script, we'll do a full-on review closer to the movie's release, but we didn't entirely love it (though some of it is beautiful). It's full of unnecessary tangents and if Fincher shot them all, we can totally see why the budget escalated. We felt like a lot of these magical tangents were redundant and yeah, we got the point. Roth also wrote, "Forrest Gump," which means the screenplay was full of the rule-of-threes dictum which also got to be little annoying and Hollywood cliched after a while. We hope Fincher jettisoned some of these superflous attributes.