We have yet to see one mediocre film at the New York Film Festival, in fact, we've seen nothing, but rather excellent ones.

Super minimalist, modest and scaled down to a whisper, Kelly Reichardt's "Wendy & Lucy," is even more austere, bare-bones and tiny effort than her lauded 2006 film, "Old Joy."

Raw and humble, the film chronicles the spare story of Wendy (Michelle Williams) who is traveling to Alaska with her dog Lucy because she's ostensibly broke. She sleeps in her car, meets some roadside homeless people (hirsute indie rocker Will Oldham in a brief cameo) and based on their dubious and potentially uninformed claims ("A buddy tells me there's a lot of jobs up there") that work is overabundant in Governor Palin's state, she makes the quick decision to keep journeying North.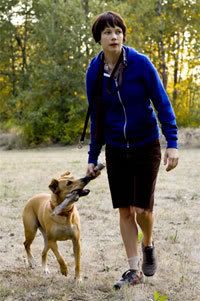 Soon we realize it's near hopelessness (and perhaps naivete) that leads Wendy to put faith in the specious claims of a vagabond; she's painfully penniless and broke is a wild understatement. Living on a insolvent micro-budget, Wendy's misfortunes soon begin to pile up beyond management. Her car breaks down and she's stuck in the Pacific Northwest. Fixing the vehicle will ruin her meticulously charted financial plan, so she attempts to shoplift and is naturally busted without lenience or empathy. Jailed and fined, she arrives hours later to find her beloved pet Lucy missing.

She spends much of the rest of the picture despondently trying to check the pound, fix her car and find her adored best friend companion. She receives minimal assistance from the local Safeway security guard who befriends her and in pity, allows her to use his cellphone, but even when he tries to help monetarily, the $7 he gives her almost seem like a cruel joke. In a way, there's not a lot more to "Wendy & Lucy," on the surface, but carried by Michelle Williams powerfully reserved and introverted performance, this film is a quiet meditation on poverty and desperation that can be truly devastating in moments.

If it weren't for Williams, the swift, 80-minute film would have nothing to anchor itself with and this is probably the reason her unassuming portrayal is already generating Oscar talk. Though to be fair, we're not sure this film can connect with mainstream Oscar voters, but here's to hoping. But even something sedate and subdued like, "Junebug" (which earned Amy Adams a surprise nomination in 2005), seems positively effervescent compared to the almost meek and motionless "Wendy & Lucy."

An almost miniaturized portrait of suffering, the small scale of "Wendy & Lucy," and seemingly narrative-less direction of the film will likely test the patience and or infuriate your average film goers (if you didn't already love "Old Joy" this film's probably not for you), but we encourage the brave and patient cineaste to invest the time in this inconspicuous and gentle little film. [A-]

Extremely sparse, there's barely music in the film, but Will Oldham does contribute a keyboard, droney ending in "Wendy & Lucy's Theme," and Smokey Hormel (of Smokey & Miho and one-time Beck touring guitarist) also contributes one song, but that's about all their is in terms of music aside from Williams humming a repetative tune (which may or may not have been written by Oldham, we're not 100% sure).