The New York Film Festival opens to the public next week September 26th with the opening night film, "Entre Les Murs" aka "The Class."

And there's a damn good reason why Laurent Cantet's extraordinary picture won the coveted Palme d'Or at Cannes this year: cause it's that fucking good.Based on a best-selling autobiographical novel by François Begaudeau, who also plays the main teacher in the film, the improvised-feeling, documentary-like picture crackles with spark and vim and tackles issues of race, gender, social status, economic class within the confines of the school room without ever feeling like a didactic lesson.


Quite the opposite in fact, the kinetic 'Class,' never stops to lecture, preach or even teach and the audience is left to make up their mind on what's transpired. Shot in a exhilarating hand-held style with multi-ethnic non-professional actors in loosely-scripted situations that encouraged improvisation, "The Class," follows Begaudeau's (teacher Mr. François Martin) French-language classroom and the clashes and skirmishes that happen among the students and with their professor.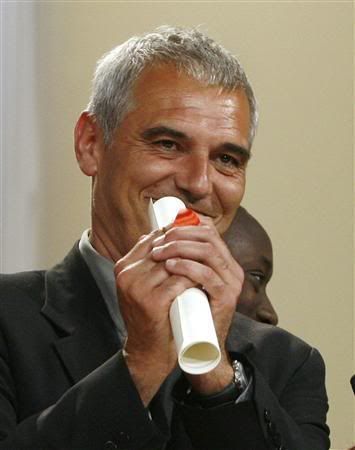 Constantly challenging his students and often engaging in verbal confrontations, the flawed teacher's pedantic ways are at odd with his compassion for his students and his desire to teach them. But like you're average public school classroom, the students are a grab bag of troublemakers, class clowns, kids from hyper-dysfunctional families, over-achievers and mercurial and emotional students that are one day teacher's pet and the next day full of spite and bitterness.

Amazingly, "The Class," never stops to comment or judge on the narrative, when the main narrative arc begins to center on the troubled young Mali teen, Soulaymane (Franck Keita), and his potential expulsion, the audience is never given an editorial view. Teachers debate, rumors fly that if he's expelled, Soulaymane's father will send him back to the precarious streets of his African hometown (a city we infer he escaped the dangerous) of, but we're never given moments at home to fill in the holes, nor are we given moments to pause and reflect. The documenting-like lens keeps moving swiftly, unsentimentally tracking the exploits of all the students and teachers, but always within the confines of the school. When the Chinese student Wei's illegal immigrant mother is deported, we're never shown moments of the child depressed or distraught. In fact, like much of the non-partisan story, we never find out what becomes of him and that thread is left unresolved. There's little by way of a message in "The Class," and the movie wisely lays it out for you to absorb, take in and marinate on. It's very much a slice-of-life, few-months in the lives of student observation with a voyeuristic, but hands-off eye.

We honestly don't have enough good things to say about this film and we could probably go on about it for a long time. But suffice to say, there's a reason why the radiant film is an award winner and it's likely going to crack our top 10 at the end of year (though the competition is getting more and more stiff as the year starts to close out). [A]