You've probably heard one of two things so far about Mike Leigh's upbeat and cheery, "Happy-Go-Lucky." One is that it's a romantic comedy that's a total winner and that two, the main character (played by the terrific Sally Hawkins) is insufferably happy and pathologically chipper. Both are wrong and true at the same time.

First off to call 'Lucky,' an effervescent romantic comedy is doing the film a disservice. It's not a genre, it's a Mike Leigh film which means it has elements of comedy, whimsy, drama and tough-as-nails and sometimes brutal realism too.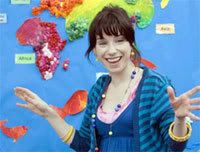 Sally Hawkins plays Poppy, a 35-year-old primary schoolteacher who is relentlessly optimistic, chatty and well, at first at least, pretty fucking annoying (but Hawkins is a revelation overall). The first 25-minutes of the film regales us with, what Jeffrey Wells called [paraphrasing] an oppressively gleeful and tyrannical storm of emotional fascism and this is kind of true, but thank god Leigh reels her in after that first quarter, because more than that would have been too much to bear and we literally would have probably wanted to drop an axe into someone's face. Luckily, that wasn't the case.

The film and its gay protagonist ease into itself after that over-caffeinated first quarter and then never looks back. Poppy's childlike wonder of the word is simple for her: she has friends she adores, a job she loves and a full, carefree life. Her younger sister, pregnant and settled down wonders when the happy-go-lucky Poppy will do the same and take life a little bit more serious, but Poppy's life suits her rather well.


Her life takes a slight turn when her bicycle gets stolen and she decides to take driving lessons where she meets another tyrannical sort of fascism in the the personality of the uber-neurotic, socially estranged and conservative Scott, a driving lessons instructor (a stellar Eddie Marsan, who you've seen in thousands of British films before, who is fierce here and also possibly has the most disgusting teeth in all of England). The brusque Scott teaches her quite austerely, the rigid and unforgiving rules of the road including some strange tenet/mantra called "En-Ra-Ha," that's meant to be a symbol of the triangle between rearview and left and right mirrors and a way of keeping someone alert at all times (like most Leigh films, this very random item came out of intense improv rehearsal).


Marsan's character becomes increasingly more frustrated with Poppy's lackadaisical ways and her weekly instructions tend to get more and more intense, but little to the notice of the everything's-a-laugh protagonist. In a way, the film doesn't really have much of a structure and just chronicles Poppy's way-the-wind takes her life. She takes Flamenco on a whim and is introduced to a nutty Spanish teacher (an amazingly amusing Karina Fernandez), she finds a boyfriend in the amiable social worker who works at her school and her empathetic nature finds her spending time with deranged homeless man in moment of moonlight strangeness. There's no real classic arc, and it's more a week-in-the-life type story, but it's better that way and fits the nature of Leigh's loose and almost improvised-feeling pace.

Without giving away too much, Scott begins to unravel and go off the rails near the end of the film and these scenes cause for some incredibly real and dramatic moments that are up there with some of the toughest emotional material Leigh's ever put on film.

Leigh's film acts more like a brief vacation into the life unique life of an odd, but super sensitive and understanding woman who's approach to life is always laughing at the absurdities and harshness that we're often dealt. Poppy would take in any puppy which makes her flatmate say, "You can't make everyone happy," to which she responds, "No harm in trying." It takes a minute to adjust to the buoyant nature of "Happy-Go-Lucky," but once it finds its footing it becomes another remarkable Mike Leigh film that avoids the trappings of feel-good movies and transcends the barriers of most reductive genre labels with top-notch performances. It's lightweight like a balloon on the surface, but its also incredibly funny, sweet, and emotional in all the right ways. [-A]