We were pretty psyched there to see the 'indie-rock comedy,' "Nick & Norah's Infinite Playlist," starring the prince of awkwardness Michael Cera and the oh-so adorable Kat Dennings.

The trailer made it look cute, charming, and winsome in a totally endearing way.

And then we saw it and we were left disappointed, deflated and we moved on, but a belated review is in order since the film premiere's at TIFF this week. We're not sure what we expected, it is a teen comedy afterall, but we suppose we were hoping for a teen comedy with a little substance and 'Infinite Playlist's featherweight touch really couldn't supply any.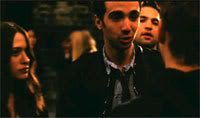 The premise is paper thin: Cera stars as a lovelorn sadsack who's just been dumped by his vapid, bitchfaced high school girlfriend and who's forced to play a gig in downtown New York with his indie rock band The Jerk-Offs, even though he'd rather just crawl into a ball under the covers. Dennings plays another high school student whose never met Cera, but is friends with his gf and hearts all the indie-rock break-up mixes he sends her. Both of them are obsessed with Where's Fluffy, a fictional band in the movie that happens to be playing a secret, one-off show in the city the same night Cera's band happens to be playing (another motivating factor that makes the heartbroken Cera acquiesce to playing the gig at all). Fate intervenes at the show and soon Cera and Dennings find themselves in a madcap night, trying to track down drunken friends and the mysterious, hard-to-see band (there's a bit more to it, but it won't add much depth here).



The first half is charming enough, but eventually, 'Infinite Playlist' devolves into a pretty typical, predictable and ultimately disposable Hollywood teen comedy. Cera, Dennings and the director Peter Sollett elevate it above the worst kinds of cliches, but not by that much. And as for all the music in the film? We're sorry to the music supervisor we're about to throw under the bus, but does every scene need some hi-tempo indie rock song that all sounds like a Wal-Mart greatest hits of Pitchforkmedia or a Now Hits! compilation as compiled by Stereogum? The mess of songs by Vampire Weekend, Shout Out Louds et all, all just blur together after a while and the songs chosen are all cut from the exact same cloth. Some variety might of helped (but then again, maybe this is what the director was asking for; indie enthusiast should also note: Hirsute indie-rocker Devendra Banhart makes a cameo). Mark Mothersbaugh's almost-Postal Service-y, twinkling electronic score was nice change of pace for him, but not enough to turn our opinion on the film.

It's charming in spots, has its laughs and moments, but 'Infinite Playlist' is unfortunately too content to settle into its ho-hum, average, teen romcom milieu after a while. It's not terrible by any stretch, but it wasn't really for us and we've basically already forgotten most of its sweet, but ephemeral nature. [B-] *For any of the enthusiasts out there who might we're being dude, indie-rock snobs: we saw it with a female tres keen on seeing this film and she felt basically the same that we did.