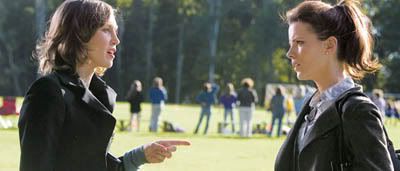 While the Toronto International Film Festival begins to wind down we ask ourselves, we find ourselves asking a lot, "why did we go see this movie?" Not because it's crap, we bought most of our tickets in advance, but we did buy lots of them without knowing much about the films. Rod Lurie's "Nothing But The Truth," was certainly one of those films. We saw it for three reasons, one bold face names like Kate Beckinsale and Vera Farmiga are what most fare weather movie fans want to read about (celebrities), both are admittedly rather gorgeous and there was a tiny bit of blog chatter about it, probably coming from someone like Jeffrey Wells (neither a dig or a laud, just an observation).

Very quickly, before we go out and enjoy ourselves for once, Lurie's "Nothing But The Truth," was pretty impressive for a straight-ahead drama. Of all the classic melodramas we saw this week, this one was easily the the most penetrating and mostly because of the actors; Kate Beckinsale put in a powerhouse performance and Vera Farmiga was rock solid too. Even Alan Alda was fantastic, one scene in particularly where he has to deliver a moving oratory speech about injustice could have easily been hokey, but damn if it wasn't riveting.

We weren't expecting much from this one honestly, stock dramas aren't really our thing, the sort of typical, conservative storytelling and camerawork can bore us from time to time, but this thing was a moving piece of work.

The film is loosely based on the Valerie Plame story, but almost a what-if-the-story-became-way-worse. More tomorrow. Definitely worth seeing.