Something to add to the Oscar season perhaps? Hey, don't scoff, "Dreamgirls," did it. Maybe not entirely successfully, but the musical movie sure stuck its foot in the door.

"Cadillac Records," chronicles the rise and fall of Chicago 1950's R&B record label (Chess Records) is now set for a December 5 release and could be this year's "Dreamgirls" if it's lucky. Either way, they'll be a ton of classic songs in the film.

Beyoncé Knowles plays the lead as Etta James, Mos Def has been cast to play o.g. rocker Chuck Berry. Actress Gabrielle Union has been tapped to play Geneva Wade, the girlfriend/wife of Muddy Waters to be played by Jeffery Wright. The film centers around R&B magnate Leonard Chess (played by Adrien Brody) and the estimable 1950's Chicago R&B record label Chess Records (in the film transposed to Cadillac Records).
The cast also includes Cedric the Entertainer (Willie Dixon), Columbus Short (Little Walter), Emmanuelle Chriqui (Revetta Chess), Tammy Blanchard, and Eamonn Walker (Howlin' Wolf).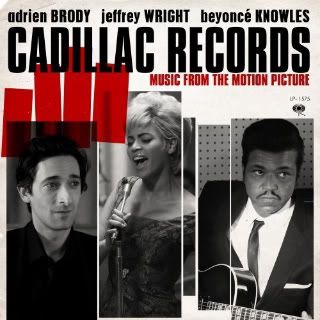 Synopsis:

CADILLAC RECORDS chronicles the rise of Chess Records and its recording artists. In this tale of sex, violence, race and rock and roll in Chicago of the 1950s and 60s, the film follows the exciting but turbulent lives of some of America's greatest musical legends.

The story of how the blues became popular and gave birth to rock and roll begins at a dingy bar on the rough South Side of Chicago in 1947, where an ambitious young Polish émigré, bar owner Leonard Chess (Academy Award-winner ADRIEN BRODY), hires a talented but undisciplined blues combo that includes quiet and thoughtful guitar prodigy Muddy Waters (JEFFREY WRIGHT) and impulsive and colorful harmonica player Little Walter (COLUMBUS SHORT). Fascinated by the sound of the music – and eager to cash in on the record burgeoning record business – Chess arranges a recording session for Waters. Waters' early recordings start moving up the R+B charts and receiving heavy play.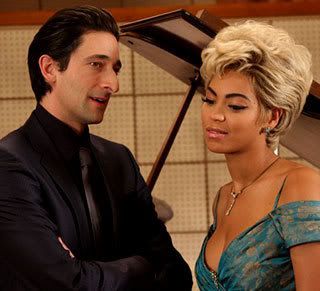 Soundtrack details are out early too. The album arrives in stores December 2 via Sony and many of the actors, including non-professional musician, Jeffrey Wright, are singing their R&B renditions in the movie and on the album. Also featured on the soundtrack are rapper

Nas,
Raphael Saadiq
and Beyonce's younger sister Solange.

"Cadillac Records" Soundtrack tracklist
1. At Last (Beyonce)
2. I'd Rather Go Blind (Beyonce)
3. Once In A Lifetime (Beyonce)
4. No Particular Place To Go (Mos Def)
5. Nadine (Mos Def)
6. Hoochie Coochie Man (Jeffrey Wright)
7. I'm A Man (Jeffrey Wright)
8. My Babe (Columbus Short)
9. The Sound (Mary Mary)
10. Let's Take A Walk (Raphael Saadiq)
11. 6 O'Clock Blues (Solange)
12. Last Night (Little Walter)
13. Bridging The Gap (Nas w/Olu Dara)