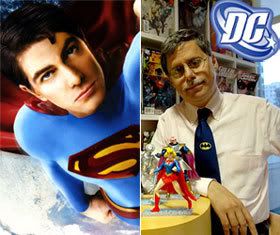 The gushing Latinos over at Latino review (you'd think these guys had never been out of the house or had a drink before) were at a New York party for "Watchmen" and they bumped into D.C. Comics President Paul Levitz and they wasted no time in asking about the reported "Superman" reboot and the future of the franchise.

The biggest piece of news that got out of the conversation was that despite director Bryan Singer being out of the picture, it appears his Superman, Brandon Routh is still in the frame for whatever comes next.

"Last week Brandon Routh has come around the offices in New York and Los Angeles as of late to talk about Superman and what we want to do," Levitz told the LT writer.

The booze (or was it the enthusiasm boner in their pants?) got to their heads. Who writes like this?

"At first I thought it was the Apple Martini I was drinking but I soon realized that I just heard a bombshell go off in my brain! Brandon? He did say Brandon Routh was coming around talking about Superman! Why the hell would they be talking to Brandon if he was not going to be part of the reboot? Because he's still in the mix!!!"
Alright, don't wet yourself. Brandon Routh will probably still be Superman.

And apparently 'Superman Whatever Comes Next' is contingent on Christopher Nolan and his may-or-may-not plans for 'Batman 3.'

"Everyone is waiting for Nolan to sign on for another Batman, once that happens, the release date for Superman and all other future projects will follow." Wait, why? Probably cause it's their flagship show and every movie release has to circulate around its behemoth stature. We wanted to headline this story, 'Brandon Routh Still In Superman Franchise; Latinos Sport Erections,' but we thought Google might not be down with it. Yes, our last name is Perez and we'll milk that, "we're allowed to say whatever we want" for the rest of eternity.