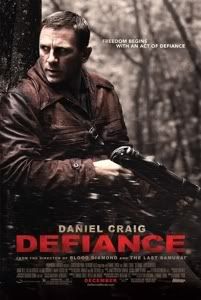 Variety's got the new trailer, and InContention's got the poster for "Defiance," the new Edward Zwick movie coming out in November starring Daniel Craig and Liev Schreiber. Here's what we wrote about the film in our Playlist Fall Preview piece.

Daniel Craig, Live Schreiber and Jamie Bell play three brothers in this true WWII-set story about a group of Jews that fled into the woods of Nazi-occupied Poland in 1942, and recruited other exiles to build a village in a violent campaign of resistance. Directed by Edward Zwick who should get a varsity letter in the sport of epic war movies ("Glory", "The Last Samurai"), you'd think Tarantino makes a violent WWII film, but these brothers were nothing to sniff at either. "They decapitated a guy who ratted them out, and left his head in the center of the town,'' Schreiber told EW.

We should note, "Defiance" gets good points right off the bat for being a Parmount Vantage film. PV is basically done, having been absorbed by Paramount proper and this will be one of the year's last, if not the last film we'll ever see with the PV logo on it, which is a shame because they always strived to put out good films that aimed at being as close to art as one can get in this commercial film landscape (see "There Will Be Blood").